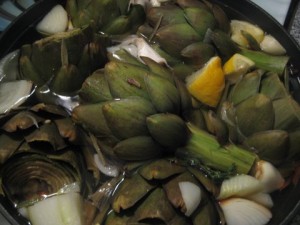 I love a fresh artichoke.  LOVE THEM!  And over the years, I've prepared them many, many, many ways – and I'm not going to lie to you, some of those ways are a colossal pain in the butt.  They prep of the artichoke takes forever, no matter how much you rub them with lemon, they start to darken before you've finished your batch – the spiky inner needles poke at your fingers and cover everything, etc. etc.  So as much as I love them in all sorts of delicate or painstaking or intricate preparations, this method below has become my go-to favorite over the years.  Not to say that I don't hand peel whole artichokes with 8 inch stems from time to time if the ocassion calls for it….but when I want to enjoy – or serve – a delicious, fresh artichoke with minimum fuss and still get maximum Wow from it, this is what I do.
Basically, you boil them in a flavorful water bath and once they're cooked, you can do what you want with them.  Peel them down to the hearts and use them in another recipe or add them to salads, etc. What's nice about cooking them before you've trimmed them down is that, not only are artichokes lot less work to trim once cooked, it also leaves the cook with those delicious leaves to dip and eat, no matter where the bottoms and stems end up.  Bonus!
My other favorite part of this method of cooking artichokes?  Easy choke removal.  Once cooked, those spiky centers can be easily removed with a teaspoon.  Double Bonus!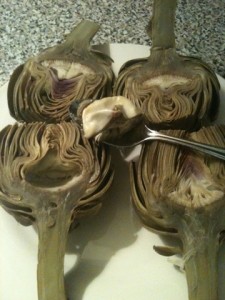 Or as I usually do – serve the artichokes hot or cold (see the make-in-advance bonus here?) with a dipping sauce.  Trust me, everyone will be impressed.  They are delicious!
Herbed Boiled Artichokes 
4 Globe Artichokes, with as much stem attached as possible
1 large Onion, cut into 8 pieces
6 Garlic Cloves, peeled and sliced in half the long way
8 sprigs Fresh Thyme
1/2 teaspoon of whole peppercorns
1 Tablespoon Kosher Salt
Pinch of Red Pepper Flakes
I large Lemon, cut into 8 pieces
For 4 large artichokes, you will need to use a large stockpot.  Put the Onion, Garlic, Thyme, Peppercorns, Salt, Red Pepper Flakes and 4 of the Lemon Pieces in the pot, fill with water and set on the stove to bring to a boil.
Now start prepping the artichokes.  Working one artichoke at a time:  I trim a small slice off the stem end and cut down about and inch or so from the top of the 'flower' end.  This gets rid of the majority of the hard, prickly leaf ends.  It's important, as soon as you make a slice, to take one of the lemond wedges and smear the cuts liberally.  This helps prevent the darkening of those places.  Once the ends are trimmed, I turn the artichoke stem-side up and slice it in half, right through the stem.  Again, quickly rub the whole cut side with the lemon wedge, then drop the two artichoke halves and the used lemon wedge into the water, and start on the next artichoke.
Once all the artichokes have been trimmed and are in the water, bring to a boil, then reduce to a hard simmer…and cook until the artichokes are tender when pierced with a knife.  Drain the artichokes, and serve right away…or keep them in a fridge (mine have lasted about 5 days) and bring them out when you need them.  You can serve them cold, or gently rewarm them before serving.  Either way, with the added flavors from the boililng liquid, and whatever delicious sauce you serve them with, they will be delicious!

Filed Under:
Appetizer/Snack, Mixed-Bag, Recipe, Savory, Vegetarian-Friendly