And the girls of FlavorJunkie and Five Finger Foods are there….and we couldn't be more excited!
We got into town this just after noon today and our first stop (of course!) was for lunch.  We headed over to the H Street Corridor to try some Ethiopian food at Ethiopic.  As its only open for lunch on weekends (and all our dinners are booked up) – we were glad it was Saturday.
We took the metro to Union Station and walked east…and once you make your way past the Columbus Moment and the Federal Judiciary Building you suddenly find yourself in a neighborhood.  Like row-house and bikes-in-the-yard and small-convenience-stores kind-of-neighborhood…and if you look back over your shoulder the gleaming glass and marble of "Washington DC" as you grandly think of it is right there…but when you look ahead, you feel like you took a step into a different time with the turn-of-the-century or older architecture (so gorgeous!) and the peeling paint and older, dented cars parked street-side.
This is one of those neighborhoods that seems to be coming around, being touched up and fixed up and being restored to former glory…and so you see, every fifth house or so one that is freshly painted or planted or something…and it gives you a peek into what this area used to be…and seems will be again.  Which all makes for a nice intro to what you're going to find when you reach Ethiopic.
It is a located on a block that seems to be being reborn as we speak.  Ethiopic is in a beautiful old building – set on a corner (with pretty striped-awning umbrella tables along one side "the patio")….the  brick of the exterior has been painted – a fresh shade of light beigey-green with colonial white trim and the sleek black of the modern built-out windows in the front…proving everything old is – or can be – new again.
The inside is done in the same colors -neutral tones with rich dark wood tables and chairs…but here the exposed brick wall has been left it's original brick-red color.    All in all a very open, airy, soothing place to sit down to a fine meal.
And a fine meal it was!  We were fairly hungry, but kept it in check as we have a *lot* of eating ahead of us the next few days…*smile*  We ordered the Doro Key Wot – Chicken Legs and a Hard Boiled Egg simmered in a spicy red sauce, Dinich Wot – Curried Potatoes cooked with Jalapeno Peppers, and my new favorite – Ethiopic Signature Tibs – Beef sauteed with Onions and Jalapeno Peppers….seriously, I ate way more than my half of that last dish.  Simply killer!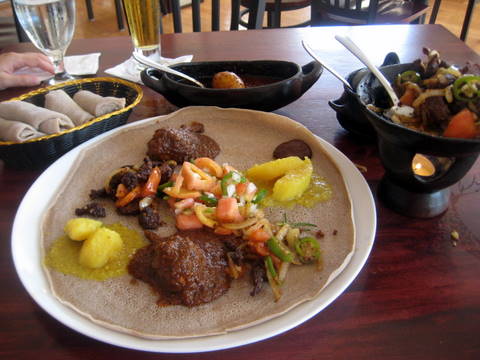 It all came out each in its own pot, which our (very sweet) waitress then served on the large platter lined with injera (the spongy pancake-like bread used to scoop up the goods and get them to your mouth – remember, no utensils here!)….with a basket of injera on the side for ripping and scooping.  The platter also came with some of their Salata – a very refreshing salad made of diced tomatoes, onions, jalapeno pepper…which while still plenty spicy, was a nice, cool-spicy respite to the warm-spicy, sometimes very spicy-ness of the other dishes.
So if you're looking for something a little different, in a different part of town perhaps…or if you've just heard about the amazing Ethiopian food DC has to offer….Ehtiopic is worth the visit.  And I'm not kidding about the Signature Tibs – I could go back and eat another serving of it *right* now.  So good!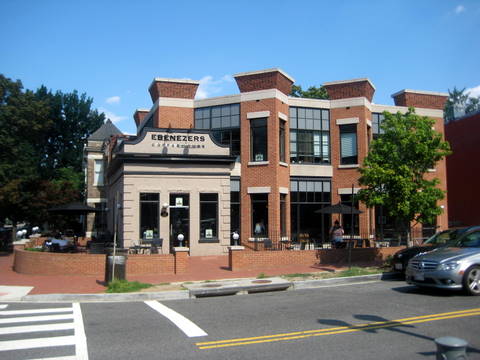 On our way back to the Metro station we stopped by Ebenezer's Coffeehouse – an inviting place that caught my attention on our walk over.  I got a nice Iced Vanilla Latte from the very friendly baristas…if we had time to stop, the outdoor patio with umbrella tables looked like a nice place to sip, read, think….whatever you feel like on a nice sunny day like today.  While I was waiting for my drink to be ready, I saw that Ebenezer's is more than just a coffee shop, they host live performances, too–so fun!  My coffee was good, the place is nice and if you check out their website, you can read about the interesting history of the building….so keep them in mind if you're out that way – especially if you're a coffee junkie like me! *smile*
Ethiopic Restaurant
401 H Street NE
Washington, DC 20002
202-675-2066
www.ethiopicrestaurant.com
Ebenezer's Coffeehouse
201 F Street Northeast
Washington D.C., DC 20002
(202) 558-6900
ebenezerscoffeehouse.com

Filed Under:
DC, Restaurant, Travel, Washington