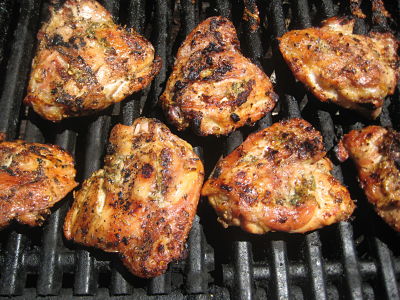 What is it with Fennel Seed?
What I mean is:  it was like, outside of sausage, I didn't know it existed.  Ok….yes, not literally…but I never, repeat never, thought to take it down off the spice shelf and use it to *flavor* something.  There were recipes I made (though not many) that called for it (mostly sausages, sauces or chilis)…but I never thought, "Hmmm, let me sprinkle some fennel seed on this chicken breast [or insert cut of meat here] for a change tonight."
Never, that is until I was watching an old Molto Mario a couple of years ago and he made a fennel-dusted pork chop recipe.  It looks so right and good, I think I made it that same evening.  And have made it over and over and over again since.  (Note to self:  make again soon, photograph, post on FJ…. but soon!)
And then, just a few weeks ago it was time to go visit my family to pack up and send Suzy off to summer camp.  We weren't starting the drive until after lunch, so there was going to be one "last" family meal.  I wanted to make something well balanced (I mean, The Suz *is* heading off to camp…the land of hamburgers, hot dogs, under-bunk stashes and care package goodies)….. but  also very tasty…and I was in the mood to try something new.  And as it was a hot summer Sunday, it *had* to be grilled. *smile*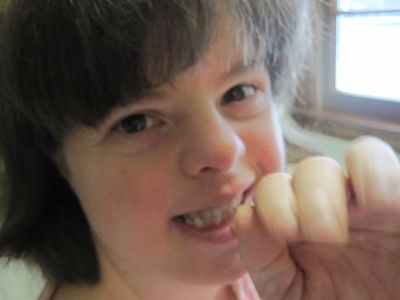 This is the Suz waving good-bye (right up in the camera!)  as she gives us the bum's-rush to the door of her cabin.
Can you say Happy Camp Girl? *smile*
I saw this recipe for Fennel and Garlic Chicken Legs on Food and Wine and I practically did the "I could've had a V8!" head bump as I thought to myself, "Whoa!!!–I did it again!"   I've been loving the fennel seed on pork–I mean really, really loving it—but I still let my mind shut down again and never even *thought* to try it on chicken.  What the heck?!  I thought I had already learned my lesson….but clearly not.  Old spice habits are hard to break I guess. *smile*
On top of all that "Eureka!", this recipe fit all my Suzy's-last-meal requirements—healthy, flavorful, *grilled*….and would go perfectly with early corn-on-the-cob and a tomato salad.  Sold!
I tweaked the recipe a bit:  upped the garlic (we're big garlic lovers here), upped the fennel seed (I mean, I'd just been hit over the head for the second time with the ridiculousness of my *not* using it, so mere teaspoons didn't seem like enough), swapped the whole legs for thighs (was making this for the family remember and my folks are decidedly not drumstick people), took off the skin (as is our usual practice—healthier and helps the flavors, of both the spices and the grill, really get into the meat)….and the final big change was swapping dried oregano for fresh.  Not only because I had a nice big bunch of fresh on hand, but for a summer, grilling, going-to-camp kind of meal, the bright clean flavor of fresh seemed the right way to go.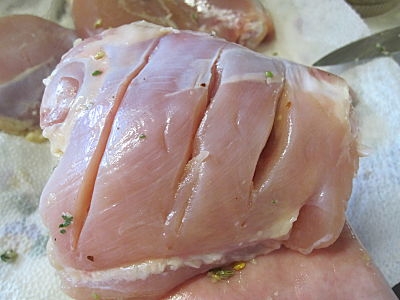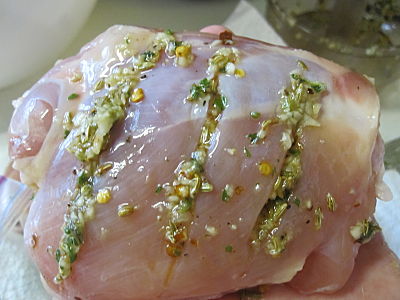 And my-oh-my (!) this recipe didn't disappoint!
As soon as I gave the rub ingredients the first whizz in the processor, the smell made my mouth water. It was all I could do not to stick a spoon in and take a big taste. (And yes, with all that raw garlic that would have been a mistake.)  But truly, as I mixed up the spice paste and massaged it into the raw chicken I kept thinking how I just wanted to take a nice big bite *right now*. (And yes, with all that raw garlic on top of the raw chicken, that would have been an even bigger mistake.)
And every time I opened the refrigerator door to massage the chicken….What?  Don't you massage your chicken, too?….that delicious fennel-garlic-oregano smell would waft up and I would again be seized with the urge to take a bite there and then.  Mmmm….  Good thing I held off, though, so that I was still around–taste buds and stomach intact– to sit down and enjoy this once properly cooked…..because this was *some amazing* chicken!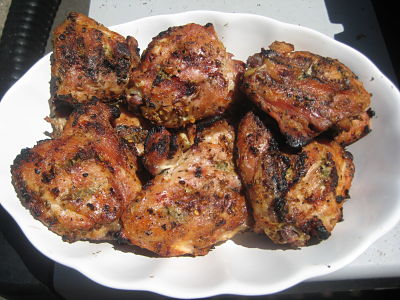 Grilled Fennel and Garlic Chicken Thighs
Based on Grace Parisi's recipe
10 skinless, bone-in Chicken Thighs
8 cloves of Garlic
1TBS Fennel Seeds
2 TBS Fresh Oregano
3/4 teaspoon Crushed Red Pepper
1 teaspoon Salt
Freshly Ground Pepper
1 1/2 TBS Extra-Virgin Olive Oil
Garlic Salt and Pepper and a bit more Olive Oil for brushing
Do ahead:
Put the garlic, fennel, oregano, red pepper, salt and pepper in the bowl of a mini-chopper and pulse to finely chop and combine.
Add the 1 1/2 TBS olive oil, and whizz to incorporate.
For the chicken, once you've rinsed and patted dry, put two or three cross-ways slits in each side of each chicken thigh.  (See photos above.)  When all the thighs have been slashed, rub some of the fennel-garlic paste into each slit, and place in a zip-top bag to marinate in the fridge overnight (or at least 4 hours, if you're doing same-day prep.)  Should you have any of the paste left over, massage it into the thighs—don't let it go to waste!
To cook:
Pull chicken out of the fridge 30-60 minutes before cooking. This allows it to lose the chill and promote even cooking.
Pull the chicken out of the bag and generously season with garlic salt and pepper.  Give the chicken a *light* brushing of olive oil–just enough to help seal in the flavors and keep that skinless meat together and not stuck to your grill! *smile*
Preheat your grill, then spray with cooking spray just before putting chicken on the grates.  Cook over moderate heat (I started on a hot grill–to get the sear—them immediately put it down to medium/low…then all low to finish) until lightly charred and cooked through (turning at least once).  This should take 30-40 minutes, depending on the heat of your grill and the size of your chicken pieces.
Let me say it again:  This was *some amazing* chicken!  As delicious as it was grilled, I'm anxious to try pan-frying this….I think the resulting pan sauce would be insane!

Filed Under:
Diet-Friendly, Mains, Recipe, Savory