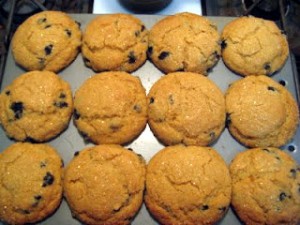 There is a big debate among blueberry lovers, which are better – the wild (often Maine) variety or the plumper, sweeter ones most of us come across more regularly. I can't say I came down on either side of the debate before – I mean we're not talking Yankees vs Red Sox here – and to be truthful, sure I've had Wild Blueberries on occasion, but I'm much, much, much more familiar with the regular plump ones, so to say I really preferred one over the other wouldn't really have been a fair decision. So when someone gave me a box fresh-picked wild ones, I thought, here's my chance to put it to the test.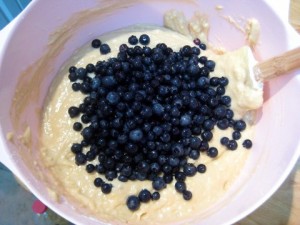 I whipped up a batch of my favorite blueberry muffins, using the wild berries where I usually use cultivated. The verdict? While I enjoyed them – and yes, Blueberry Muffins are my favorite of all the muffin flavors, hands down – I must say, pedestrian me, I preferred my usual berries. I just enjoy getting to the big round berries and getting that extra burst of blueberry flavor. So while I managed to eat and enjoy this whole batch, I won't be sad when I go back to the berries-I-can-find-in-the-grocery-store, either.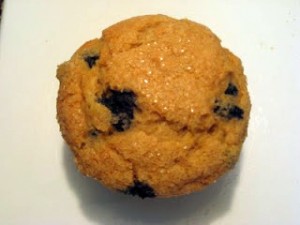 Wild Blueberry Buttermilk Muffins, with Sparkle Tops
2-1/2 cups all-purpose flour
1/2 teaspoon salt
2-1/2 teaspoons baking powder
1/2 teaspoon baking soda2 cup vegetable oil
1-1/3 cup packed light brown sugar
Zest of 1 lemon
1 x-large Egg
2 teaspoons vanilla extract
1 cup buttermilk
1 1/2 – 2 cups wild blueberries
2 Tablespoons Sugar
Preheat the oven to 400 degrees F and line a 12-cup muffin tin with paper liners.
In a bowl, mix together the flour, salt, baking powder and baking soda – set aside.
In another bowl, combine the oil, light brown sugar, lemon zest and egg.
Stir in the buttermilk and vanilla extract.
Add the wet ingredients to the dry ingredients and mix well. Gently mix in the blueberries.
Spoon the batter into the muffin cups filling them about 3/4 of the way to the top. Sprinkle the tops of the muffins with a bit of granulated sugar. This gives them a bit of extra sweetness (which helps, since the wild berries aren't as sweet as the regular ones) and also gives them a bit of sparkle, which is always nice. *smile*
Bake for 15 minutes and then lower the temperature to 350 degrees F and bake for an additional 8 – 12 minutes. The muffins are done when the spring back when pressed lightly with your finger and a tester inserted in the middle of the muffins comes out clean.
Let the muffins cool in the pan for 10 minutes and then remove the muffins and let them cool on a wire rack.

Filed Under:
Bread/Pastry, Breakfast, Mixed-Bag, Recipe, Sweet