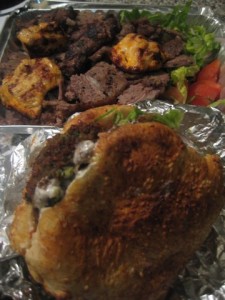 Turco – A great new addition to Hell's Kitchen!
I watched with anticipation as they built out this space and put up a sign that said "Turkish Grill coming soon!"  Oh my!  Juicy, spiced grilled meats with rice and salads and my favorite – that yogurt-dill sauce. Oh my, oh my!  So it was shortly after they opened when I found myself getting home late one night and in the mood for a really satisfying round of take out.  And to me, nothing is more satisfying than deliciously grilled meat.
I wanted to try as many things as possible (and relishing the leftovers before I had even placed the order) so I went with the Mixed Kebab Plate ($11.95) – it came with Kofte (seasoned lamb patties), Chicken, and Lamb Gyro, with rice, salad, my favorite white sauce and a red sauce that was a piquant pepper sauce.  Because I just had to know if their falafel was any good, I also ordered a Falafel Sandwich ($4.95)….and I'm so glad I did!  As I've said before, I generally consider falafel a snack, rather than a meal.  But Turco has changed my mind.  Well, at least when I'm talking about their falafel.  They make by far the most satisfying falafel sandwich, ever.  The falafel themselves are large and crispy-fried and delicious…lots of vegetables and my always-favorite tahini…but the things that put this falafal sandwich over the top to the "Best-Ever" category – the pita.  I've never seen one like it.  Large and airy and studded with sesame seeds.  So delicious in its own right, but in combination with everything else – killer!
The Sandwich was so large and delicious and satisfying I couldn't stop eating it….and by the time I was done I was *so* *so* full, I couldn't even have a taste the Mixed Kebab Plate.  All that filling deliciousness for $4.95 – amazing!  But even trying the Kebabs the next day for lunch, they were fantastic.  And yes, I've been back and tried the meats non-leftover…and they are worthy of being on the menu with that sandwich.  And in the pure bonus category – they give you one of those freshly made delicious Turkish Pitas with the plates….so if you're like me, you can use it to eat some of the hummus you have in the back of your fridge….and think about your next order from Turco.
And when I finally stopped in there (rather than just ordering in) – I found that though they are a counter-at-the-front establishment, they have a very nice space in the back with 10 or so tables.  So if you're looking for a casual place with great food in HK – pre-theatre perhaps? – give Turco a try.  And be sure to get an extra pita or two for the road.
Turco
604 9th Avenue
b/w 43 & 44th Sts.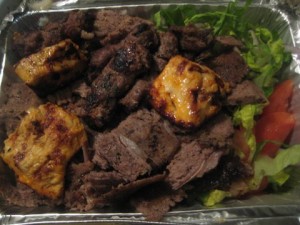 Filed Under:
NYC, Restaurant