There is the surpising little block in Midtown, right up from the main New York Public Library (the big one, with the lions).  It's East 41st street between 5th Ave and Madison.  The north side of the block is just the back entrance to the buildings on 42nd street, but the south side?  Is a little Japanese mecca.  There are 4 – yes, 4! – Japanese restaurant/markets on this one short block.
I've been to two of them a number of times, but today for lunch I decided to give Sunrise Mart a try.  It a Japanese version of a NY deli in the front and a 7-11 in the back. 
I got a Spicy Tuna Roll – had a great texture, there were some shaved scallion nestled on one ride of the roll and it was indeed spicy – really packed a kick!  Not a large roll, but six nice-mouthful-sized slices for $4.49…and packing this much flavor? I'll take it!  *smile*
And I know this is silly, but thought I don't use it, I *love* the retro-packaging of the wasabi. It looks so sixties, I feel like I'm in an old Doris Day/Rock Hudson movie.  *smile*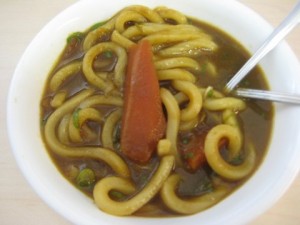 I had been planning to get another roll…but the sign for Curry Udon caught my fancy, so I decided to forgo the second roll and noodle it up instead.  Came in one of those quart soup containers and was filled about 3 quarters of the wa.  Lots of noodles – nicely toothsome – a few large chunks of carrots and some thin slices of scallion….all encased in a curry broth – almost more gravy than broth it was so thick.  Highly aromatic, slightly spicy and rather slick…all together it made one robust dish.  I wouldn't suggest it on a warm summer day, but if you're looking for warm and filling on a brisk or cold day, this dish'll do ya.  And all for $6.75.
So if you find yourself in midtown and looking for a quick Japanese meal….or you want to grab something to bring with you to enjoy in Bryant Park, keep this block – and Sunrise Mart – in mind.
Sunrise Mart
41st Street b/w 5th Ave & Madison

Filed Under:
NYC, Restaurant, Tips