I walk along this block just about everyday, so I was certainly intrigued when I saw this 'structure' pop up.  Turns out it is the home to "Spiegelworld: Empire".
When I found out just what it was, that behind the eclectic, wooden facade was a real old-world Belgian Spiegeltent….and that there would be show in it this summer, I knew I had to go!
How best to describe what this show is….?  Hmmmmm….  I would say it's a modern twist on the 'side-show' like talents from Coney Island…mixed with a bit of Cirque du Soleil….some burlesque…and some raunchy, very low-brow comedy.  But all in all, a lot of it is really, really amazing!  Amazing in the 'how can they do that…how do their bodies bend that way…..oh my goodness if something goes wrong someone's going to end up very hurt…!" kind of amazing.
So should you go?  If feats of strength and agility, circus acts or the talents of Cirque du Soleil appeal to you, yes.  If you're looking for something a bit different, a bit out of the ordinary, to do here in NYC, yes.  If you have children or  business colleagues or anyone who is easily offended, no.  There is some nudity, and language…and many references to sexual acts…so just plan who you go with accordingly.
And be sure to stop by the full bar available, too.  A drink or two will help take the edge of the vulgarity…and the folding chair you'll be sitting on.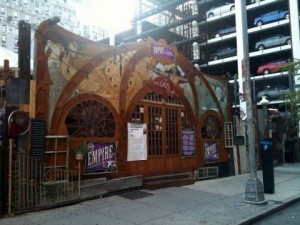 Spiegelworld: Empire
265 West 45th Street
between 8th Ave and Broadway
Performances Wednesday through Sunday
http://www.spiegelworld.com/empirenewyork.html

Filed Under:
Entertainment, NYC