I love kale and potato together. I would eat Colcannon every week if I could…..but a girl can't live by mashed potatoes alone, no matter how many vegetables you mix in!  So I did a bit of research for a potato and kale soup and after reading a number recipes for different versions of Portuguese Kale and Potato Soup came up with this version for myself
I recently tried Hillshire Farm Hot Italian Style Smoke Sausage and have been using it in everything since. I'm on a tear! *smile*  But any smoked bratwurst or kielbasa would work in this soup.  The smokiness from the meat gives a nice richness to this brothy soup.  And you can easily make it vegetarian by skipping the sausage all together.  If you want the veggie version to have that nice smokey flavor, simply add a few drops of liquid smoke.  But don't worry, it will still have plenty of flavor, even without the smoke.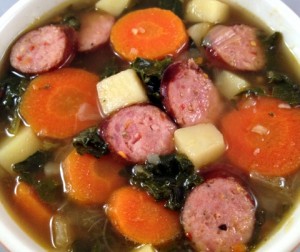 Potato and Kale Soup with Smoked Sausage
Makes 3 quarts of soup, serves 6-8
1 lb. Bratwurst – I used Hot Italian Style Hillshire Farm
Brown in bottom of large soup pot, add one cup of water, cover and heat 6-8 minutes.  Remove sausages, cut on an angle and reserve.  Also reserve the water left in the pan.  It will have picked up great flavor from the browning and the smokiness of the sausages.
Add the following to the pot:
2 cups sliced Carrots, about 2-3 large
2 cups chopped Onions, about 2 large
4 cloves of Garlic, crushed
1 1/2 lbs Russet Potatoes, peeled and cubed
4 cups Chicken Broth (or water and bouillon)
4 cups water
6 dashes of hot sauce (If using the hot-style sausage, you may want to decrease this or omit. *)
The reserved water from cooking the sausage
1 teaspoon Kosher Salt
Freshly Ground Black Pepper to taste
Bring to a boil, then lower the heat to a simmer and cook until the vegetables are tender, about  minutes. Mash the potatoes – right in the pot – with a handheld potato masher.  This will thicken the soup and give it some nice body.  Don't target the carrots while you're mashing, but don't worry about getting a few of them in with the potatoes.
After the potatoes have been mashed, add:
4 cups chopped fresh Kale
1 cup potatoes, peeled and cut into 1/2 inch cubes.
Return the soup to a boil, then lower to a simmer.  Cook another 10-15 minutes, until the potato cubes and kale are cooked through.  Taste and adjust the seasonings and serve.
I don't do this all the time, but serving this soup over a nice piece of toasted ciabatta or other crusty bread is a nice thing to do, too.
*  I use both the Hot-Italian Sausage and the Hot Sauce – it makes a pretty spicy soup, but in these cold winter months, I like how it warms you from within.  If I make it when the weather is warmer, I will use one or the other.

Filed Under:
Mains, Recipe, Savory, Soup, What's For Dinner