One Man, Two Guvnors
By  Richard Bean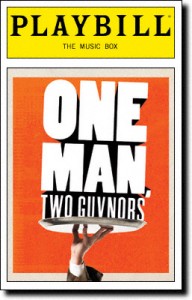 I just saw this show for the second time – yes, the second time, and trust me:  Go see this show right now!  It is hysterical!
I first went during previews.  I had heard good things from the run in London, and though I hadn't seen James Corden on stage before, I've had a secret crush on him (he's simply charming and adorable!) from my not-so-secret love of British chat shows….so I *knew* this was something I wanted to see.
It's farce, it has fun, original music, it's *very* physical humor…. it is, in a word: hysterical.  But I can't really tell you anything about it.  No, really.  I can't.  It would be wrong.  Because to tell you about it would deprive you of the fun of the absurdity unfolding.  And that would be a shame.  Trust me, truly a shame.
The surprises start when a nattily dressed, very 60's, 4-man band comes out to sing some sprightly tunes while the audience is being seated.  The set opens on an apt in 1963's Britain.  I have to admit, even in the second viewing that first scene is hard to follow…but don't let it get you down – as soon as James Corden becomes the center of the show, you'll be doing nothing but laughing…and no longer care a whit what you missed in that first act.
And after you take my advice, drop me a line to discuss it.  I'm dying to have people to talk about it with – and relive the hysterical-ness – and not worry about ruining anything!
Music Box Theatre
239 West 45th Street
(Between Broadway and 8th Avenue)
Open now through September 2nd

Filed Under:
Entertainment, Fun, NYC, Theatre