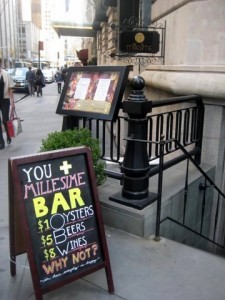 Why not, indeed!  Not much makes me happier or more excited than $1 oysters.  So when I saw this sign outside of Millesime – the bar and restaurant inside the Carlton Hotel  – I knew my next Happy Hour (read: the very next day) would be filled with those $1 Oysters.As soon as I mentioned it to Carolyn, I had a willing companion.  We made our way through two platters of these:
And while Carolyn stuck with Prosecco, I had a couple of these beauties: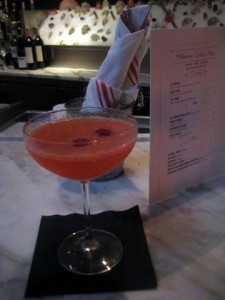 So if you feel like starting your night with drinks and oysters in a very turn-of-the-century Parisian setting, head to Millesime.  It would be a great start to any evening in NYC!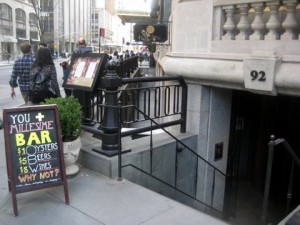 Millesime Oyster Bar
at the Carlton Hotel
92 Madison Avenue
b/w 28th & 29th Sts.
$1 Oysters at Happy Hour, Mon-Fri 5pm-7pm

Filed Under:
Cocktails, Entertainment, NYC, Restaurant