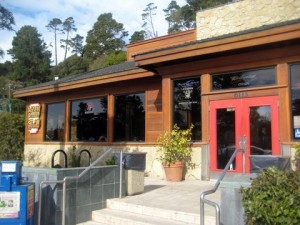 After a morning spent at Heart Castle, this was the perfect spot to grab lunch before we started our drive down the coast.  We had been in San Francisco to attend the Winter Fancy Food Show (and visit my brother, Tom, who happily lives in the Bay Area) – and after 5 days in San Fran, we started a drive down the coast, with my sister Suzy in tow.
Our first stop was an overnight at a beach-front motel in San Simeon which put us in the perfect location to get to Hearst Castle first thing the next morning.  It was a beautiful day and Suzy especially enjoyed the grandeur of the castle – the blue-tiled swimming pool was her favorite part.  She declared she plans to have one of her own.  Once we finished at the Castle, we were more than ready for lunch – and headed to the Main Street Grill, just a few miles up the road.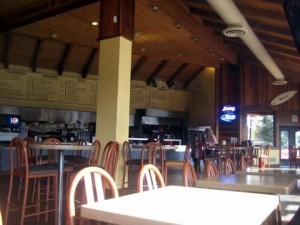 Nothing fancy, just a large room (I think it started as a stand and was later enclosed) with the grill in the back on one side and a bar with sports on multiple tvs on the other.  You go up to the counter and place your order, then grab a table and wait until they call out your number.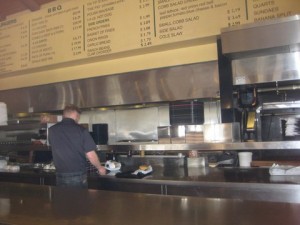 We got the pork rib meal ($10.99) – a rack of ribs with beans and garlic toast on the side.  Tender and tasty!  We also got 1 pig sandwich ($5.99)- that'd be pulled pork, ya know – an order of onion rings ($2.99)  and a couple of sodas.
This was plenty of food for the three of us to eat.  We walked away feeling full and bbq-satisfied.  And all in under an hour.  The perfect place to stop when you're on your way to something else.  Good food, low prices, free refill on drinks, roomy and 'loud' enough that families are welcome….keep it in mind the next time you're in the area.
Main Street Grill
603 Main Street
Cambria, CA 93428
tel: 805-927-3194

Filed Under:
California, Restaurant, Travel