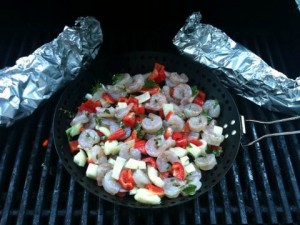 Who needs skewers when you have a grill basket?  I love to make – and serve – kebabs in the summer.  There's just something fun about them…you can prep them ahead, easily gage how many to make….look great perched on the plate…..but sometimes, there is just no time to thread the skewers.  This was one of those times, and led to a very happy discovery!
I was planning to make Shrimp and Vegetable Skewers for 4 of us for dinner.  Time got away from me, so no advance work was done.  Then at the last minute, we got a call that friends of ours were planning to stop by…making the total for dinner, 8.  Luckily, I had plenty of ingredients on hand…but what I didn't have was time.  So I decided to just throw everything in the grill basket and hope for the best.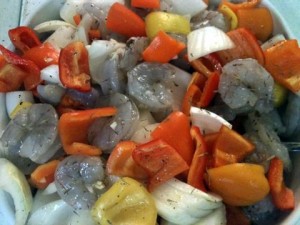 I quickly cut up  a few onions and peppers into chunks, added the cleaned, raw shrimp ( 2 lbs), seasoned it with a bit of garlic, salt, pepper, fresh thyme, and olive oil.  And let it sit and have the flavors come together while I started working on the side dishes and dessert.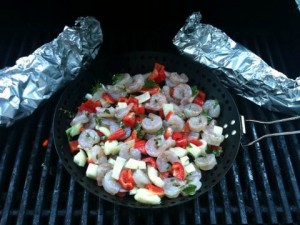 When it was time to grill, I preheated the grill pan along with the grill (on high) so that it would be sizzling hot and sear the shrimp and vegetables when they hit the pan.  Once I put the food in the pan, I closed the lid and let them cook.  (Those foil packets you see contain one of my quick side dishes: sliced potatoes and onions with herbs, drizzled with a bit of olive oil.   A great easy grilled side dish. Especially good when you're pressed for time, like I was! *smile*)
I turned them about 4 or 5 times – wanted as many sides as possible to get some char…
When the shrimp was pink and just cooked through, I pulled it off the heat (careful here, that grill pan is really, really hot!), transferred it into a bowl, squeezed some lemon juice over top – and that was it!
Minimal hands-on time, lots of color and flavor, and a main dish for 8 in about 20 minutes.  As I said: Who needs skewers when you have a grill pan and a crowd coming for dinner.
This is easy, no-sweat summer entertaining at it's best!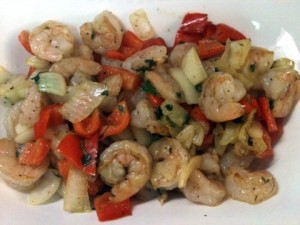 Filed Under:
Diet-Friendly, Mains, Recipe, Savory, Vegetarian-Friendly