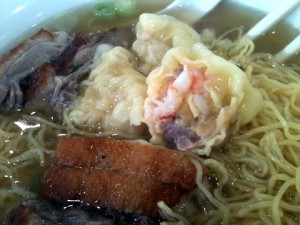 "The kitchen is closed today."
A funny thing to be told when you've just been seated in a very full, very busy restaurant, at noon – with everyone around you busily eating.  Thank goodness that – even without a kitchen – East Corner Wonton makes some very delicious and very satisfying food!
I had tried to order the Pork Fried Rice…but I guess that is only available on odd-kitchen's-open-Fridays, not the day I was there.  But the roasted meats and noodle soups were in full flower, so that's what I got.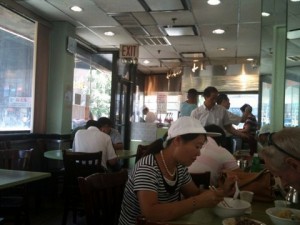 The inside is the usual Chinatown, not fancy, a bit crowded, but clean and with brusque and efficient servers.  But it's the food – oh the food! – that you're there for.  And it is so good, so bright and tasty…..and the wontons are *killer*, so I can see why they made the title…erm, restaurant name.
Noodle Soup with Roast Duck and Wonton – was the first thing I had, because really, you have to have the wontons when you're here.  Yes, I said, Have To.  You won't regret it!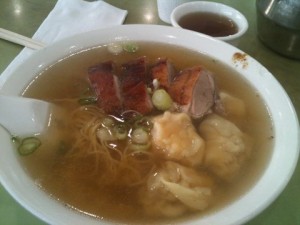 Great broth, nicely chewy noodles, perfectly roasted duck…and, oh my!, those wontons. Truly believe they are the best wanton's I've ever had.Chin  Here's a closer look: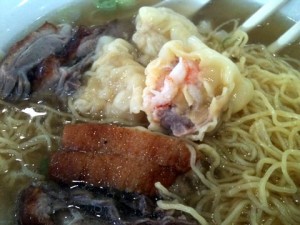 And since the Roast Pork Fried Rice (one of those childhood favorites I'm grateful to be able to '"upgradedly" indulge in since I moved to NYC) that I had originally tired to order wasn't available, my waiter to suggested I try the Roast Pork Over Rice instead.  "It's much better anyway!" he assured me.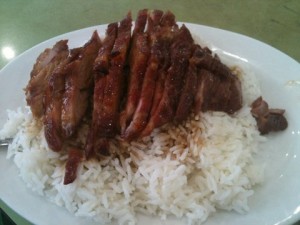 I didn't actually need anything else after I ate that big bowl of noodle soup…but I can't lie and say I wasn't happy to have it!  The Roast Pork was delicious and fresh…and those bites of rice that the sauce and juices had seeped into…?  Trust me, those are something you *find* room for.
And if all that deliciousness weren't enough, the prices are as good as the food:  Noodle Soup with Roast Duck and Wonton –  $5.00, Roast Pork over rice – $4.00….and the prices even include tax!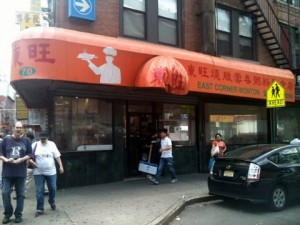 East Corner Wonton
70 East Broadway
New York, NY 10002
tel: 212-343-9896

Filed Under:
NYC, Restaurant