Now that you've had time to run out, fetch some artichokes and boil them up, here's a way to use them.
This is one of my favorite – and quick and easy-  sauces  to serve over the wonderfully-made-in-advance Herbed Boiled Artichokes.
This sauce comes together in a snap – literally in  less than 10 minutes….and as the artichokes are already cooked, all you need do is remove the center choke from the artichoke…. if they're cold, warm them in the microwave for 2 minutes…. spoon this sauce over top, and voila – an amazing – and impressive –  first course! And no one will know how easy it was.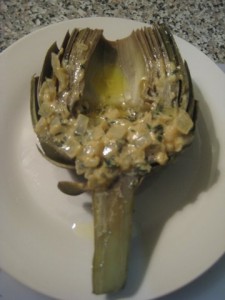 Dijon Shallot Butter Sauce
4 Tbls Butter
1 Shallot, diced **
1 clove Garlic, smashed or minced
2 springs fresh thyme leaves
1 TBS Dijon Mustard
salt and fresh pepper to taste
Melt the butter in a small saucepan.
Add the shallot, stir through and bring to a simmer.
Add in the garlic and fresh thyme leaves. Stir through. Let simmer for 1 minute.
Stir in the Dijon Mustard.
Turn off the heat, cover and let sit for 3-5 minutes.
Season with salt and pepper to taste.
**If you don't have a shallot on hand, you can substitute one small onion, diced small. Choose a white or yellow onion variety if possible, as the red types turn an unsightly grey color when cooked.

Filed Under:
Appetizer/Snack, Recipe, Savory, Vegetarian-Friendly