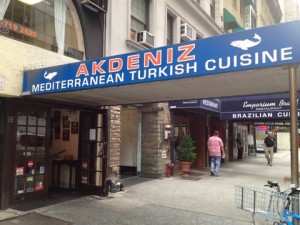 S (you remember S, the CA Wine Guy) and I talked a lot about the Middle East and Egyptian and Meditteranean cooking….and with today being so sunny and hot, I was in the mood for it! So I found a Turkish place on Seamless that would deliver to the office and had gotten some good reviews. I chose Akdeniz (19 W. 46th Street. b/w 5th & 6th) – and my oh my oh MY – was it good!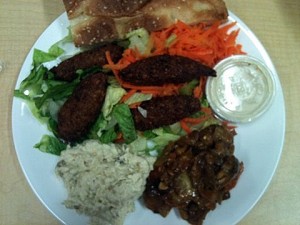 Ordered Babbaghannous ($5.50) , Eggplant with Sauce ($5.95)- fried eggplant with tomatoes and onions – one of my favorites!, Falafel ($7.50, came with lettuce and shredded carrots and tahini), Chicken Shish Kebab($12.95)- came with rice and vegetables and salad – and was delicious! Great flavor to the chicken, plenty of rice, etc…could easily get this and a spread/app and share with someone. They were all seriously delicious – but the best of all was my pick: The Sultan's Delight: 'a classic ottoman dish made with smoked eggplant puree mixed with flour, milk and mozzarella cheese and served with chicken or lamb on top. ($14.95). I of course chose the lamb…and while I was expecting kebab pieces, it was actually topped with a lamb stew – beautifully tender chunks of lamb and carrots and celery…delicious!
The pita bread was that lovely puffy, seed-flecked kind…so glad I order 'extra bread' with one of the dishes for 75 cents. So, so, worth it! And will be grateful for it when I eat my leftovers tomorrow.
Akdeniz
19 West 46th Street
(Between 5th & 6th Aves)
212-575-2307
http://www.akdenizturkishusa.com/

Filed Under:
NYC, Restaurant