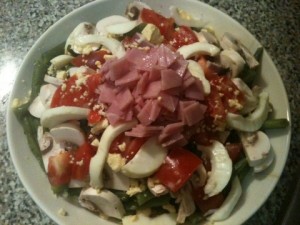 I feel like a dope every time it happens, but I periodically have to remind myself that a salad doesn't HAVE to be lettuce-based.  About once a month, I'll be figuring of what to make for dinner or lunch and think to myself, A salad would be nice…too bad I don't have any lettuce.  But then most time (but not all, truth be told) I'll remind myself that there are plenty of delicious salads that don't have lettuce in them.  There's no rule or anything saying that anything without lettuce can't be called a salad…..and then I feel like a dope that no matter how many times I've had this little conversation with myself, the whole lettuce=salad=lettuce mantra is still so firmly engrained in my head.  But oh well!  At least most times I manage to think-through it and correct myself.  And today was one of those times.
Invariably the week after Easter finds my fridge – like most people's I'll wager – filled with the spoils of leftover Easter Dinner.  For me that means bits or even copious amounts – of Roasted Ham, Beef Brisket, Leg of Lamb – and of course, many many many Hard Boiled Eggs.  Beautifully and painstakingly decorated by The Suz, of course.  As happy as I am to have a repeat of the Easter meal a time or two this week, what I really love is making something new – and usually lighter – with these delicious ingredients.  I feel very 'rich' when I have so many lovely different meats cooked and waiting for me in my fridge.
So this noon, when I was thinking of making salad to serve with the leftover Think Spaghetti with Clams and Ramps (leftovers from the Good Friday feast)…and lamented the lack of lettuce in the apartment…and then corrected myslef, this is the delicious and very "Spring"y salad.  It was the perfect counterpoint to the pasta – and the lettuce was not missed – even for an instance.
After-Easter Spring Salad
Makes two salads
3 cups Green Beans, cooked and snapped or cut into 2-inch pieces
1 Tomato, large dice
Red Onion to taste – I used three slices, cut into quarters
4 Button Mushrooms, sliced
1 Hard Boiled Egg, yolk crumbled and whites sliced into half moons
I used some basil vinaigrette I had on hand – but this would have been fantastic with a mustard vinaigrette or even just a splash of red wine vinegar, ev olive oil, garlic salt and pepper.
If I wasn't making lunch for someone cheese-adverse, I would've added a bit of the leftover Stilton from the cheese tray.  Little crumbled bits of a pungent cheese wouldn't go amiss here at all.
The green beans make this a filling, though light, salad.  And was the perfect way to stretch the not-quite-enough-for-two leftover spaghetti into a gourmet-worthy leftover lunch.

Filed Under:
Diet-Friendly, Recipe, Salad, Savory, Sides