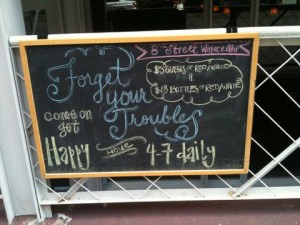 Spent a great night in Greenwich Village this week.  There's just something about walking around this beautiful, old-brick-building part of town that seems so perfect on a warm summer evening.  So many bars and restaurants have fronts that open out into the streets, so even as you stroll along in the relative quiet and darkness, every so often you walk through a pool of light and noise from one of these boisterous places.  Makes you feel like you're a part of something, even while you feel like it's just you and your date in a romantic part of Old New York.
I was out for the evening with S, a recent transplant to NYC from, well, at this point, just about all over the world *smile*, but most recently, from California.  And as a former California guy, he has a preference for California wines.  As I am a big lover of French and Italian wines…we enjoy, well, torturing each other, by going out and ordering one Cali and one Old World (as he calls them) wine, both trying them and then each trying to convince the other why our pick is better.
Ok, maybe that sounds lame, but it's a really good excuse to try a lot of different wines, so cut us some slack, ok? *smile*
So we started our night at the 8th Street Winecellar. I had heard about this spot, but hadn't tried it yet…and when I checked the wine menu, the had both our wines, so we decided to give it a go.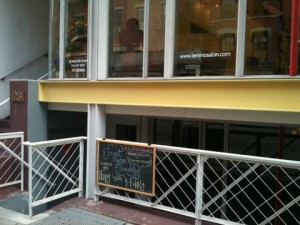 Interestingly modern space in a usually-old-style neighborhood. It is down a few steps at "basement level" – hence the 'winecellar' name, so follow the numbers on the street when you look for it, the chalkboard sign out front is easy to miss otherwise. Inside, nice atmosphere. Modern, but not coldly so, and they have the best bar stools ever!  The kind with large, padded, square seats and backs. The kind where you feel like you're sitting on a living-room chair, but up high. I love those – you get the advantage of sitting at the bar, while enjoying the comfort of a banquette. Perfect when you plan to spend some time sitting and sipping.
They have a full bar, but we were there for the wine.   Our plan was to have a face off – ordering glasses of Cali for him and European for me and comparing side-by-side to see if one of us could win the other one over. But when we saw that the happy hour specials were just *so* cheaply priced – $18 bottles and $5 glasses of the house selection of red or white – we changed our plan. The CA Cab we were planning to order a glass of was one of the $18 bottles, so we decided to start with that. Also ordered the Sweet Corn Quesadilla ($9, I think) – which was tasty – the smoked paprika was a nice unexpected touch – good to nibble on, but on the small side. S (being a CA guy) said "Wow. That's a quesadilla in NYC? I guess I'm not in CA anymore!" So like I said, it was good, but know that it's not a meal.
When we first sat at the bar, I noticed two different guys sitting by themselves at the bar, having a bite to eat and drinking a bottle of wine. And I thought- you're here by yourself and you're drinking a *bottle* of wine at 5:30? Whoa…! But as the night wore on…S and I finished that Cab…and moved on to have four more glasses between us (had to try those French and Italian reds, too, you know – for research. *smile*) So that works out to a bottle apiece…so I guess I shouldn't talk! *smile*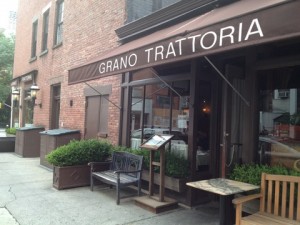 We then went to dinner at Grano Trattoria, an Italian restaurant on Greenwich Ave.   And I must admit, it was chosen solely from Opentable because it was listed, had availability and was in the neighborhood…(and I only had the time he took going to the men's room to get a plan together. *smile*) But God was smiling down and taking care of the girl who had just drank 4 glasses of wine… (but was, remarkably, sober. I guess the combination of time  – we were there for a few hours – and drinking lots and lots of water along with the wine did the trick. Heck, sometimes at home I'm tipsy after 1 and more than tipsy after two!)… because it turned out to be an excellent restaurant.  And kept up my reputation that I always know a great place to eat in "my town" (as S has taken to calling it).  Phew!
Lovely corner spot with a wood burning oven in the corner of the open kitchen. Greeted warmly by an older gentleman who gave us a choice of tables, "The one in the corner is cooler from the air conditioner and also more private (he said with a wink), but you choose the one you wish. Please be comfortable." That kind of warmth was echoed by our waiter- very friendly and enthusiastic – and all the staff who came to our table.
We shared the Carciofini all Romana – Sauteed artichokes with pancetta, basil pesto & sheep's milk cheese – $11 – to start. Delicious! A bit smoky, a nice salty bite from the pancetta and the artichokes were sliced thinly and were only just-cooked, highlighting their freshness and giving the dish a nice chew. The bread basket that came alongside offered a few different kinds – and all were delicious.
S picked our mains  – something I almost never let happen (I'm bad, I know!) – but he was so excited about them, he won me over.  He went for two of the specials: Roasted Chicken with Spicy Sausages and the Lasagna made with lamb. Both were fantastic. Way to go Cali-guy!  (Maybe I should let my date chose what we eat more often.  Yeah, right! *smile*)  The chicken came with two links of sausage that had been split and had curled up in the cooking…along with mix of almost-shredded carrots and Zucchini…I think some potatoes, too – and it came in that glorious Italian 'brown' sauce. God I love that brown sauce! So much flavor…and mixed with the great flavors of the meat…so good!
The lasagna was a surprise. I wasn't overly excited about it when we ordered it….but one bite and I was hooked. Tender, fresh pasta sheets layered with sauce, bechamel (I think), some cheese and a lovely lamb ragu. The lamb was flavorful and came through, but without being gamey. Italian comfort food at its best. And of course, two (more!) glasses of Italian Red to compliment the meal…and keep the competition going.
Wasn't planning on getting dessert – so, so full, we ate everything! – but when I went to order the coffee and cappucino…I just couldn't resist ordering the chocolate gelato. ( I get away with a *lot* of stuff while S is in the men's room, clearly. *smile*) They serve L'Arte del Gelato products (both gelato and sorbet)…and it was a warm night in Manhattan and after such a good meal I didn't have room for much, but a few mouthfuls of cold, rich, chocolate cream seemed right…and it was. And I don't think S held it against me for sneaking it in – as soon as it was placed before us, he grabbed his spoon and took three big spoonfuls right in a row.
Guess we were both in the mood to end such a great night with something sweet.
8th Street Wine Cellar
28 West 8th Street
(Between 5th & 6th Aves, on the south side near MacDougal St.)
212-260-9463
www.8thstwinecellar.com
Grano Trattoria
21 Greenwich Avenue
(at W. 10th St)
212-645-2121
www.granonyc.com

Filed Under:
Entertainment, NYC, Restaurant