Grilled Sausage Patties with Peppers and Onions
This is the perfect lunch on a hot, sunny, summer day as far as I'm concerned!  It's a crisper, dare-I-say lighter (really, dare I?  I'm just waiting to hear the backlash…*smile*) take on your traditional Sausage and Peppers. 
The reason I say this is "lighter" is that traditional Sausage and Peppers are links of sausage cooked with peppers and onions and some amount of tomato sauce (and the amount of tomato sauce varies widely…from almost-none to swimming-in-it)…and they are usually cooked together long enough that the result is really a Sausage-and-Peppers Stew, with a somewhat-slimy texture and the 'darker',  long-cooked, more muted flavors of the ingredients.
But here the flavors aren't cooked and muddled together – they are layered upon each other so you get more of the taste of each individual component and can see how each compliments the other…all in one juicy, crispy bite.  Also, who wants a pot of something cooking on the stove on  a hot summer day?  Here you throw the ingredients on the  grill, layer them on a bun… and you're done!
Like I said, this is one of my favorite summer lunches – but they're also a great addition – and nice change of pace from regular burgers –  to any BBQ you may be hosting this season.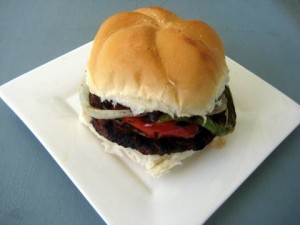 Grilled Sausage Patties with Peppers and Onions
8 Italian Sausage Patties , Hot or Sweet  (I'm a big fan of the hot)
2 Red Peppers, sliced into rings
1 Green Pepper, sliced into rings
2 Large Yellow Onions, sliced into rings
Olive Oil
Garlic Salt
Black Pepper
8 small Kaiser or Hard Rolls
Preheat your grill to medium-high.
Wash the peppers and slice into rings.  (When slicing into rings, I find it easier to remove the stem and seeds *after* slicing.)
You don't want the slices too thick – you're going to be layering them on top of the sausage patty the way you put a slice of tomato on a burger – but not too thin, or they will fall apart on the grill.
Trim the ends of the onion, peel and slice into rings.  I make my onion slices slightly thicker than the pepper slices – I like them to keep a bit of that onion crunch/heat after grilling and the thicker slices give you that – nicely cooked/charred on the outside, still slightly raw in the center for a bit of raw-onion flavor.
Put the vegetables in a bowl or on a plate, drizzle with Olive Oil and sprinkle with Garlic Salt and Pepper.  Use your fingers to toss them to make sure they all get seasoned.
Grill the vegetables – I usually spritz the grill with cooking spray first, though I know some people think this is dangerous *smile*….so feel free to use your tongs to swipe the grate with a bit of oil-soaked paper towel instead if you'd prefer.
They are thin, so they only take a few minutes on each side to get just-cooked and to get some nice grill marks on them.  Remove the vegetables and keep them loosely covered while you grill the sausage patties. (If you cover them tightly they'll continue to cook and get mushy – don't do this! *smile*)
Again, I tend to spritz with cooking spray, then cook the patties with the grill cover closed for about 4 minutes on each side.  When they're done, put them on a platter (if you want your guests to put together their own sandwiches)…or as you take the patties off, you can fill each roll with a patty and some of the peppers and onions, so that they are ready for your guests to grab and eat. (A nice option for parties…)
I like them just like this – where the flavors of the sausage and peppers and onions can really come through – but feel free to dress them up any way you'd like:with mustard, ketchup, BBQ Sauce, lettuce, tomato, pickled jalapenos…..these sandwiches pack so much flavor they really can stand up to almost anything, so have fun!

Filed Under:
Mains, Recipe, Savory, What's For Dinner