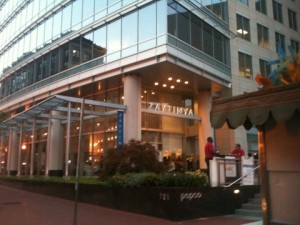 That was one of the first things I said when I checked in with the host at Jose Andreas' Zaytinya, for, even though I had a reservation which I was on time for, they handed me a beeper and told me it would light up when a table was ready.  Um, really?  I know you're a big, bustling, popular eatery, but you really can't keep track of your customers with reservations better than that?   The last time I was handed a beeper like that was when someone convinced me to stop at The Cheesecake Factory at the mall.  Yeah.  Doesn't set a good tone for the rest of the meal I can tell you.
The space itself is not my favorite – they have a number of different dining areas that don't look like they have anything to do with each other.  The worst area by far is to the right of the entrance, just across from the bar area – the space is so bleak, combined with the style of the table and chairs it looks like the seating area of a mall food court.  I kid you not.  When our buzzer went off and they tried to seat us there, we politely asked if we could wait until something in another area became available.  They were gracious enough about it and we were soon seated in the slightly warmer dining area next to the open kitchen.  I'm glad it worked out because we had already decided (while we were waiting for that glorious buzzer to light up) that we'd rather leave than have to eat our meal in that space.  And we meant it.
Service is *incredibly* slow….we saw one table get up without even ordering – they just gave up after drinks – but we were tired from a full day of walking the show floor, so we didn't mind so much…though we were seated at our table for more than 5 minutes before anyone approached us – for anything – and seated for a full 30 before our first cocktail arrived….so like I said – incredibly slow service – be forewarned.
Zaytinya is Jose Andreas Middle Eastern Mezze (small plates) restaurant….and overall the food was good.  The Chicken Soup Avgolemeno  was a bit more tart than it should have been – the Arayes – grilled minced lamb and tahini stuffed pita was rather disappointing…but the rest were very good: Kotopoulo Youvetsi: chicken cooked with tomato and orzo; and Urfa Biftek: grilled steak rubbed with spices…..both were tasty if not particularly inventive…but the Snail Kibbeh (potato-crusted snails) were incredible…..as was our favorite dish of the night:  Piyaz –  Giant Beans with kale and tomato in a-don't-let-a-drop-go-to-waste sauce spiked liberally with fresh dill.
Greek and Lebanese wine are not at the top of our list, so we turned to the fun and rather unusual cocktail menu – I had the Istanbul, not Constantinople made with Maker's Mark and Apricot and C went with A Date with Rose – Chairman's reserve rum, date syrup and almond foam.  A date with Rose is worth ordering *just* for the almond foam or *just* for the glass it's served in.  Our later order of a glass of Greek Rose reminded us we still feel the same way about Greek wine – very skip-able.
Would we go back?  A qualified maybe. Most of the food was good and a few of the dishes were extremely good….but taking into account the space and the slow service and all that went with it…we won't be rushing to go again.
Zaytinya
701 9th Street NW
Washington, DC 20004
Corner of 9th & G Streets
202-638-0800
www.zaytinya.com

Filed Under:
DC, Restaurant, Travel, Washington