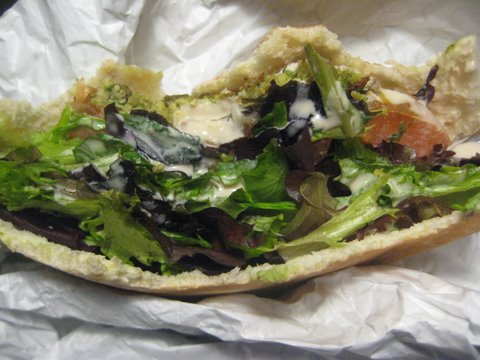 The Falafel Pita from Pita Grill
So, what makes it a snack?
Well, I do realize that some people would consider it a *meal* (or a lunch at least….) but for me, it is only a snack. *smile*
It doesn't keep me full long enough to be a 'meal'…but it is so tasty—and just filling enough—that it is the perfect snack:   in the middle of an afternoon of running around the city, when you've already burned off lunch and it's a long way 'til dinner…or late in the afternoon on a night you're eating post-theatre…grab one of these and you'll be happy and satisfied with a tasty, healthy hold-me-over…that *still* leaves room (both mentally and physically! *smile*) for dessert with dinner.
OK:  What makes it a secret?
Well, it's the super-special only-in-in-the-know price.   $3.00!
Hmmm, but it says on their menu that the Falafel Pita is $5.75?
And it *is* $5.75 if you order it for delivery…but if you stroll into one of their NYC locations (6 so far and counting) and order it, they have what they call their "Daily Falafel"  and it's only $3.00!
It has a fresh, fresh pita, filled with the warm falafel, lovely baby lettuces, tomato….and it comes with your choice of  sauce (regular tahini, spicy carrot tahini, citrus garlic sauce, among others)…and they'll even give you an extra one for free!  (If you need any more than that, well, you're going to have one soggy pita and it's gonna cost you an extra 50 cents.)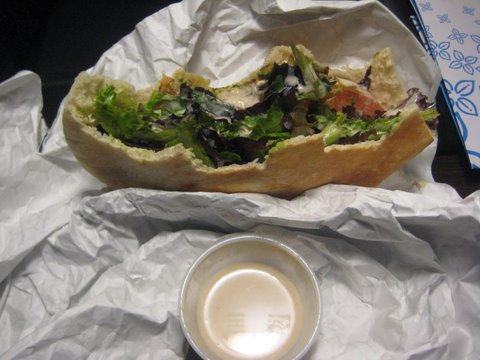 What a deal!  And it's not advertised anywhere – not on their menus, on their website or in their stores.  It's only for those in-the-know…..(or at least someone like me, who wandered in unknowingly for a tasty snack and ended up with a bargain, to boot! *smile*)…. and now *you* know….
So the next time you're running low on fuel as you go through the city, pick up one of these $3.00 wonders…and you can keep on keeping on…with a smile on your face and (if you're like me and so addicted to it you lick every last drop out of those little containers…) a faint line of tahini  on your upper lip.
All the other "in-the-know-ers" will know *just* what you're smiling about! *smile*

Filed Under:
NYC, Restaurant