Million Dollar Quartet
by Colin Escott and Floyd Mutrux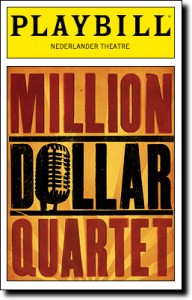 I had seen it a while ago and quite frankly, while enjoyable, it just didn't seem to me like a "Broadway" show.  But a Broadway show it was for a little more than a year…
So when I heard they had moved to the New World Stages Off-Broadway, I thought, yes – that sounds just about right!
The musical tells the story of a real-life impromptu jam session on Dec. 4, 1956, between Johnny Cash, Jerry Lee Lewis, Carl Perkins and Elvis Presley at Sun Records' storefront studio in Memphis, Tenn.  The music is GREAT – the performers do a fantastic job and the set is used very, very well.
Now that it's at Off-Broadway prices – go see this show!  It's lots of fun, family-friendly…and if you like the music of Johnny, Jerry Lee, Carl or Elvis – you will have a great time!
Now at:
New World Stages
340 West 50th Street
b/w 8th & 9th Avenues
Open-ended run
Photo from Playbill.com

Filed Under:
Entertainment, NYC, Theatre