Memphis: The Musical
Book and Lyrics by Joe DiPietro
Music and Lyrics by David Bryan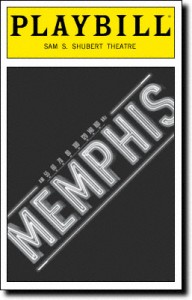 This show is very, very popular.  A multiple Tony-award winner: for Best Musical, Best Book, Best Score, Best Orchestration….and people love, love, love this show. 
It's set in – you guessed it – Memphis in the 50's – at the birth of Rock n Roll.  It tells the story of how local (fictional) DJ Huey Calhoun brings his love of R&B music to main-stream radio and how he fosters the career of local night-club singer, Felicia Farrell.  Huey loves Felicia's voice…and the rest of her, too.  Their inter-racial romance causes many a flare up in this show and shows the deep-rooted close-mindedness of the time very well.
Even if you don't love, love, love this show as so many have – you are in for a rollicking good time!  This is a high-energy show and the music and dance number keep you moving – even as you're sitting in your seat.  And if your audience is anything like the one the night I was there, you'll all be up on your feet at the end of the show.
The Shubert Theatre
225 West 44th Street
b/w Broadway and 8th Avenue
Opened in 2009 and still going strong
Photo from Playbill.com

Filed Under:
Entertainment, NYC, Theatre