Once I realized how much flavor the candied kumquats added to my margarita…I thought, I should start candy-ing all manner of citrus fruits to up-the-fruity-flavor in more of my cocktails….and so turned to limes first.  Probably because I was thinking "frozen margaritas' at the time and lime is my favorite.
Doing a bit of research, almost no-one out there talks/writes about candying whole limes for this kind of thing.  There's lots out there of sugaring and drying citrus fruits for snacking or garnish…but when it comes to cocktail-put-up (as in jarring) – citrus..I was left pretty much on my own.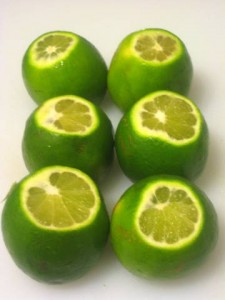 Luckily, doing them up pretty much the way I did the kumquats seemed to work.  Unlike the kumquats, which turn out still-vibrantly orange and jewel-like, the limes go from bright-green to more of an army green. And because the limes have so much more liquid, instead of a sticky-sugar-jewel-like coating, you end up with lots and lots of gorgeous freshly-made lime syrup…so you still come out ahead.
Be sure to pick out some good-looking limes – you're going to end up eating them, skins and all, so you want the best you can find.  Save those pale, sniggly-looking things to use when you're juicing them.  Trim off the ends of each lime – too much bitter pith won't do you any good…and try to slice them limes as evenly as possible, so they'll cook through at the same rate.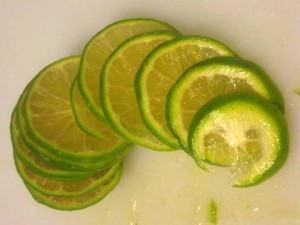 Here's the recipe – and just like the kumquats, it's an easy do.  Make up a batch and then you'll have your own candied limes – and bonus fresh-lime syrup! – to try along with us as we use them to make interesting summer cocktails from Margaritas to Lime Rickeys…to Lime Anything-Goes!
Candied Limes and Lime Syrup
4 cups sliced Limes (This was 6 large Limes for me.)
4 cups water
2 cups sugar
Combine the water and sugar in a large saucepan.  Heat over medium-high heat while stirring to dissolve the sugar.  Add the sliced limes and reduce the heat to medium.
Cook the limes for 5 minutes, stirring almost constantly – to keep the limes submerged/coated with the liquid.  If you don't stir often, some of the limes will be 'floating' on the top and will take longer to cook….and the submerged limes will break apart before the floaters are done.)  You'll know they're ready when the white pith looks almost transparent.
Transfer the lime slices to a large glass jar or two and then fill with some of the lime syrup.  Pour the remaining lime syrup into another jar.  Cover and refrigerate.
Not sure how long they'll last, but my guess is 3-4 weeks…If at some point I actually have them lasting that long, I'll report back on how they held up.

Filed Under:
Cocktails, Recipe, Sweet, Vegetarian-Friendly