This large wrap-around the corner restaurant on 9th Avenue and 45th Street is always packed.  Which is why I don't go there all that often (I'm just not willing to wait that long for a burger – I always think I'll stop in sometime when I walk by and they're not swamped.)  And as I walked by tonight and once again decided the line was too long for me, I remembered how I lucked out and got a table there one snowy night last winter and never told you about it.
Last winter was crazy with snow and one night a huge snow-storm came in while I was in a theatre watching a Broadway show.  We had planned to grab a bite after the show, so we found ourselves wandering over to 9th Avenue – cars spinning out all around us.  By the time we got the few blocks over, we were simply covered in snow.
But the upside of the crazy weather was finding Five Napkin Burger only half-full – and we were psyched to enjoy a nice, warm, juicy burger!    Whenever I look at their menu, I'm perplexed by the Sushi portion of the menu – just doesn't seem to 'go' in a restaurant with the word Burger in the name….but I just skip right over it and focus on which burger to try this time. 
They have some interesting burger choices – a Lamb Kofta, a Tuna, an 'inside out' – basically a Beef Burger wrapped in lettuce, for those carb-watchers among us – but tonight we went for a classic and my favorite:  the Bacon Cheddar Burger.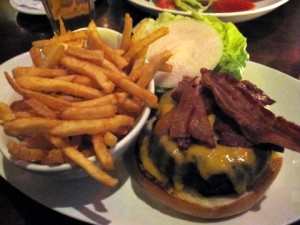 The burgers are pretty big and I was feeling like a salad, so we decided to split the burger and the BLT Salad.  (This was not a night I wanted to take a doggy-bag home –  I had a feeling I was going to need my hands to hang onto  anything I could while I slipped-and-slided my way home.  *smile*)  The BLT is a classic wedge salad, but one that's been upgraded with lots of thick cut bacon and a delicious creamy french dressing.
The burger and the salad made for a very satisfying meal – and just the right amount of food for us two girls.
Maybe it was the snow…and maybe it had more than a little to do with the fact that we had just returned from a trip to New Orleans…but when we saw they had some Dixie beer on offer…we each got one. And I'm no beer drinker….but boy was it good!
Fortified with a great burger, lots of delicious bacon and some beer in an usually calm Five Napkin Burger, we headed out, back into the storm – ready to trudge our way home.
So – if you're in the mood for a good burger and either a) plan ahead and book on Opentable or b)wander by and find them at non-crazy-busy time – they are a worthy stop.
And be sure to have a Dixie Jazz for me if you do!
Five Napkin Burger – Hell's Kitchen (other locations throughout the city)
630 9th Avenue
@45th Street

Filed Under:
NYC, Restaurant