We lucked out and found that one of the restaurants we were most interested in trying – Againn, a decidedly contemporary, upscale, high-brow-cocktail version of a Gastropub –  was literally right around the corner from our hotel.  So this was our later-side Saturday night dinner pick….the last chance we'd have to sit back and relax a bit before the craziness of the Fancy Food Show in the morning.
Being New Yorkers, we were more than a bit surprised that at 9pm on a Saturday night, this restaurant – currently on the Washingtonian's list of 100 best restaurants – was only slightly more than half full.  Surprised, but not overly disappointed, as this meant we were able to get one of  outside umbrella tables…a great score on such a rare, humidity-free DC night.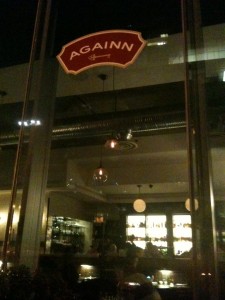 This is the one picture that actually came out – it was 9pm after all and the sun had set…and since we didn't want to be the people taking flash pictures of the food, this was all we got.  We started with their soup of the day:  Garlic and Potato.  Neither of us really liked it.  It was a bit too dusky tasting and the drizzle of oil over top didn't add anything, except to make it feel too greasy in the mouth.  In keeping with the 'pub' theme, C got the Fish and Chips  – nicely battered thick pieces of white fish, hand-cut potato-wedge fries and classically-English mushy peas – and I had the Bangers and Mash.   I wasn't the biggest fan of the mustard mash or the caramelized onion gravy, though I can understand how they played nicely together…but the house-made sausages were light and lovely tasting.
We had two very nice cocktails – handcrafted with house-infused syrups etc. and they were truly an artisan's creation.  My Churchhill Downer started off one way- mostly bourbon and lemon –  but by the time I was drinking the last quarter of it, the ice had melted and the strawberry-and-basil infused syrup really came right up, both in the nose and in the taste, and was a great finish to a fine drink. The Pippa Punch was a refreshing blend of vodka, lemongrass, bitters and a hint of watermelon.
Our most favorite thing, though, by far – was the Banoffee Pie.  I had heard it was good, but I'm not usually a dessert kind of person….but something told me to order it -and I'm so glad we did.  It took a few minutes to come out, but when it arrived, we could see why: hand crumbled thick graham-oaties-type biscuits were in the bottom layered with some chocolate ganache, sliced bananas , caramelized milk and freshly whipped cream, all served in a wide mouth canning jar.  It was so good, I almost can't believe it.  I think it is safe to say that I will never, never, NEVER go to Againn and NOT order the Banoffee Pie.  Diet or fullness or lateness be damned – it's simply too good to miss.
They are known for their house-made Charcuterie…and as much as we love that kind of thing, we knew we'd be sampling tons of that at the Fancy Food Show over the next few days so we didn't order some to at least try, as we usually do.  On my next non-food-show visit to DC I can see myself ordering one or two of those finely mixed cocktails, their Charcuterie platter – oh! and the side of Brussels Sprouts with house-made Bacon which we had, loved, devoured – and finishing it all off with a Banoffee pie.
Now *that* would be a good, good night in DC.  I'm ready! *smile*
Againn
1099 New York Avenue, NW
Washington, DC 20001
Located on 11th St between K & New York Ave
202.639.9830
www.againndc.com

Filed Under:
DC, Restaurant, Travel, Washington