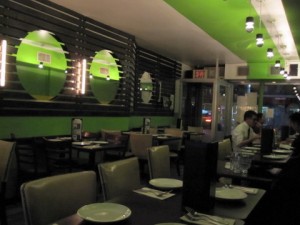 These terribly-lit pictures don't do it justice, but Aceluck Thai serves some of the freshest, tastiest Thai food in Hell's Kitchen.  And with literally dozens of Thai restaurants in this area, that is no small claim to fame.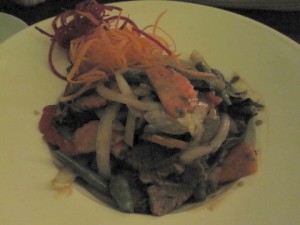 It's a small slip of a restaurant located on one of the not-so-nice blocks of 9th Avenue (right near the entrance to the tunnel) – but it's worth seeking out.  The food is so fresh and tasty – spicy the way you want it to be spicy and presented far more elegantly than it's location would imply.
I'm not a big fan of the appetizers, but every other dish I've tried has been excellent – and at this point, I've worked my way through most of the menu.  Two of my all-time favorites are their Beef Thai Fried Rice and their Shrimp Tom Kar (Coconut Soup with Lemongrass).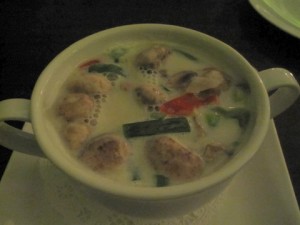 When you order a soup – any kind of soup, it is served to you in a covered bowl, who's top half lifts off and you are left with a two-handled bowl, as you see above.  And the soup itself is clearly just made – the vegetables only barely cooked and the shrimp are juicy and crisp.  Such a great start to any meal, whatever else follows has to be wonderful.
Aceluck Thai
530 Ninth Avenue
between 39th & 40th Streets
tel:  212-594-7083

Filed Under:
NYC, Restaurant