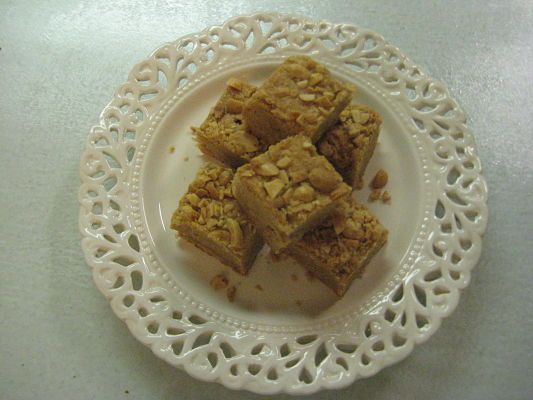 Here's my feeling about peanut butter desserts—-they don't taste enough like peanut butter!  By the time you cut the, what, 1/2 cup or 1 (woo-hoo!) cup with flour and eggs and *especially* sugar, the taste of the peanut butter doesn't come through near enough!  So I set about experimenting and trying to come up with a peanut butter square recipe that would still be bar-cookie-like (not fudge) but pack the wallop of PB flavor I was looking for.  And after all that trial and error, you know what the key was?
Swirling in some pure, unadulterated Peanut Butter at the end.  This gives you a pure hit of peanut butter every now and again and this helps to amplify the PB flavor in the rest of the bar.  Not too bad, eh? *smile*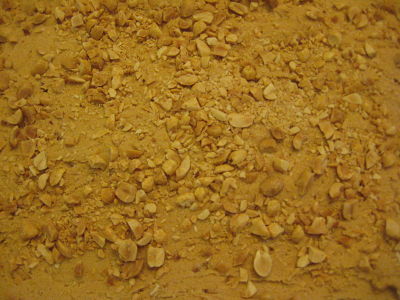 Using the chunky peanut butter–with all those little nuggets of non-sugared peanuts—helps with this, too…as does the sprinkling of peanuts over top.  Anything that punches up the nut vs sugar flavor is going to help land that Peanut Butter flavor front and center in your mouth…and that's what I want in a Peanut Butter anything.
For this latest batch, I had the cutest helper–ever(!)–on hand—my sister, Suzy.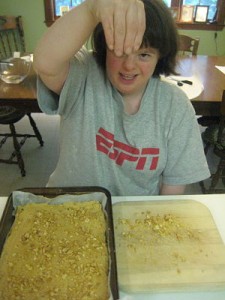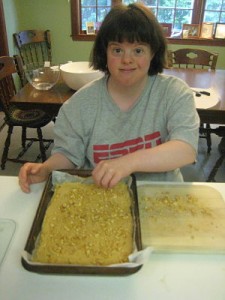 These bars are super, super simply to make….the only 'mistake' you could make would be over-folding the peanut butter at the end….but even that isn't going to be bad in anyway–so go forth and fold with confidence!  You can make them a couple of days ahead and keep them un-cut and well-wrapped at room temperature…you can freeze them for almost ever (well, I've only gone as long as three months…but feel they'd last a long time past that)…and they defrost quickly, so they are a great treat to have on hand to offer unexpected guests.
If any of you have any other pump-up-the-peanut-butter hints, I'd love to hear about them in the comments.  Because while the swirl is the cure here, there are some places a swirl just won't work…and I'd love another option!
My Supreme Peanut Butter Squares
2 cups AP Flour
1 teaspoon Baking Powder
1/2 teaspoon Salt
1 cup Butter, softened
2/3 cup Peanut Butter–I use Crunchy, but Creamy works just as well
1 cup granulated Sugar
1 cup Light Brown Sugar
2 Eggs
2 teaspoons Vanilla
2/3 cup Peanut Butter **Yes, *another* 2/3 cup peanut butter!  And again, I use Crunchy, but Creamy is fine, too
1/2 cup salted peanuts (roasted, cocktail or otherwise), roughly chopped (optional, but goes with my whole 'Crunchy' thing)
Preheat oven to 350 degrees.
Prepare a 9 x 13 baking pan—line with enough foil for overhang on the short ends (you'll use this as a handle to get the bars out of the pan)–the grease and flour the foil. (For this batch, I used parchment–and either works just fine.)
In a small bowl, mix the dry ingredients together, set aside.
In a large bowl, cream together the 1 cup Butter and the *first* 2/3 cup Peanut Butter.  Add the Granulated Sugar and Light Brown Sugar, and mix well.
Add in egg, then vanilla, mix until thoroughly combined.
Add in dry ingredients, mix just until combined.
Now comes the magic!  Gently fold in the *second* 2/3 cup Peanut Butter–but just barely—because you are inevitably going to end up incorporating it a bit more as you spread the batter into the pan—and the whole point here it to get the jolt of peanut butter flavor the swirl will give you.
Spread the batter into the prepared pan….and between the sticky-stiffness of the dough and the move-ability of the foil this will take a bit of effort.  I find it best to put large dollops into the pan and then press/spread them til they come together….and invariably end up using my fingers to get it to some sort of even.
Sprinkle the peanuts over top (and yes, you can skip this step if you don't have, are lazy, or are going for the whole creamy-smooth thing! *smile*), and lightly press into the dough…or they will jump right off when you go to cut them, trust me!
Bake for 25-28 minutes, or until the center is puffed and a tester comes out clean.
Let cool completely in pan. When ready to cut, use the foil over hang to grab and lift the whole plank out of the pan.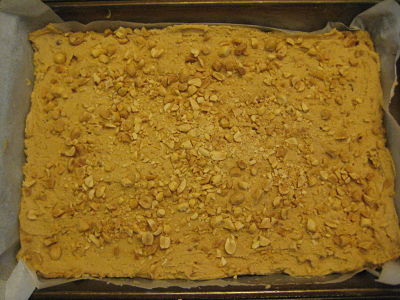 It it soooo much easier to slice this way….and allows you to easily trim the crusts (if you're into that sorta thing…or if there's a person in your house who loves the edges so much you can use them as bribes…..)….cut only what you need into squares and leave the rest as a whole piece (helps keeps them fresher longer….)…or just make short work of turning these into nice, even squares.
These freeze and defrost beautifully–either as a whole piece or already cut into squares.
Can you make a smaller batch?  Sure!  I always think it's the same amount of work to make a batch this size and have half tucked away in the freezer for the next time…but if you're a 9×9-er…simply cut the measurements in half and bake 15-18 minutes, until the center is puffed and the tester comes out clean.

Filed Under:
Cookies, Dessert, Recipe, Sweet