The Language Archive
By Julia Cho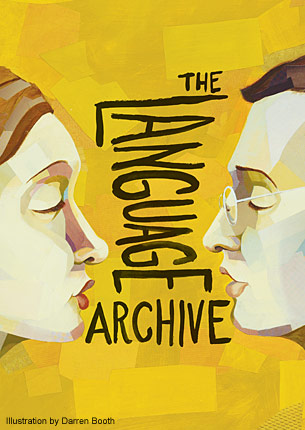 I really enjoyed this sweet little play!  The Roundabout Theatre Company commissioned this piece – a comedy about a man studies languages, most notably those that are on the brink of extinction, yet one who struggles to communicate with the people closest to him.
It's a comedy and the laughs are frequent, most provided by John Horton and Jayne Houdyshell—two very talented actors who play a variety of characters in this play—but most hysterically, they play a couple from a far-away un-named country who are the last two speakers of their native tongue.  They've come to the Language Archive to record their language so it doesn't vanish without a trace.  And luckily for us they are a bickering couple…who manage to get their points so *hysterically* across—even though we don't understand a blessed word they are saying.
The first act is a lot of fun.  The set gets you to talking  from the minute you walk in and the costumes here really help tell the story.  The show does go a bit astray in the second act– not so far as to be unrecoverable, just one scene in particular I think should be cut—and overall the performances of all the actors are wonderful.
There is a beautifully written, very poignant moment in the play where the lead character, nicely played by Matt Letscher, tries to convince his wife to come back to him. He says that if she really goes, their language will die out.  He tells her that they are the only two speakers of their language and how he doesn't want it to die.
I had never thought about it in those terms before, but that's where part of the sadness comes from whenever a relationship ends (be it romantic, familial, friend)…..all those memories and histories and shortcuts and code-words….all those intimacy building blocks…. are lost.  In some cases forever.  And that is so true and so powerful, it's wrenching to think about.
I love it when a play, a book, a song shows us a new way to think about something.  Or reveals something that was always there, but we hadn't stopped to put thought or words to.  I love the way it makes me think in new directions and, in this case, think about–and appreciate–those people I have such a connection with.
For Ms. Cho and this talented company to have slipped this beautiful moment in amongst almost two hours of laughs….makes this sweet little play have more heft than you'd have thought at first glance.
Harold and Miriam Steinberg Center for Theatre
111 West 46th St – between 6th & 7th Aves
Open now through December 19

Filed Under:
Entertainment, NYC, Theatre