The Mermaid Inn Uptown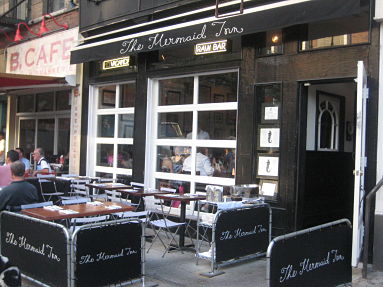 So many people love this restaurant–and I can see why.  It's the perfect cross between cool Manhattan restaurant and rustic clam shack.  The dark wood looks pleasantly distressed, as if it could be salt-worn.  The darkly framed pictures are all studies in antique white, cream and tan—there is even photo of Camelot's (and Cape Cod's) First Couple, John and Jackie–one of the old fashioned ones that looks painted over to bring out the blue…
But the space itself is pure Manhattan—the whole outer wall opens out onto Amsterdam Avenue–creating the coveted in-the-window tables in addition to the sidewalk tables.  Even the fresh air—and the night we went it was a bit warm and humid–creates the perfect mix of summer-and-shore—-the clamminess of the humidity and lack of AC makes you feel you're at the beach.  But the smell, while not bad, are pure city!  And the sounds of taxis and traffic and buses and car horns help to keep your feet planted firmly on Manhattan soil.
Let me say at the outset:  I had a feeling this wasn't going to be a place for me.  I've looked at the menu for years (they've been open in the East Village a lot longer than on the UWS)….and something about it just made me think I wasn't going to be as thrilled as everyone else.  And last night was the night my gut instinct was proved right, when TG said let's go there for dinner.  So I made a reservation (very needed here)–and off we went on a warm spring night.
It started fairly well, the space does look cool and we got one of those special in-the-window tables.  Then they brought the bread.  But wait, no–not bread, actually, just those pre-packed "everything" flat breads.  Um, those a fine, certainly—but where's the bread?  If you want to put those in an assortment, that's fine…but delivering a few pre-made flatbreads with a little crock of butter seems like a cop-out.  And really:  when was the last time anyone sat around spreading butter on a cracker?  Come on—give us the bread!
We each ordered a glass of wine….and they do that: we may not be giving you any bread, but we'll show we're taking care of you by pouring you a taste before we give you the whole glass procedure.  OK, my snarkiness about the lack-o-bread is coming through here, I'll admit (*smile*)—and I really do like it when you get a chance to change your mind, 'cause let's face it, every Cabernet is not the same and you have no way of knowing 'til you try it.  So I appreciated it when they gave us a sip.
The waitress poured TG's Malbec ($10) first, he sipped, approved, she filled up his glass.  She then poured my taste of the Rose ( $12)  I had ordered, but when she went to pour the glass it turned out she was down to the last inch in the bottle.  So she said she'd be right back to fill up my glass.  Came back three minutes later with another almost empty bottle of wine, that got me to almost half a glass….she had to come back again…and *AGAIN* the bottle was practically empty…so I ended up with an almost-full glass of wine made up of the dregs of three bottles.
Um, note to waitstaff and bartenders and restaurants everywhere:  Better to funnel those dregs into one bottle before you bring it out then to make me feel like I'm drinking the left-over swill of other patrons.
I know, I know–no one is drinking out of those bottles (or we certainly hope not and have to have that blind faith belief to go out anywhere….)…but that is what it makes you feel like to be poured (short, no less) from the discard pile.  Had you brought me a glass poured in the back or funneled in back and poured at table, I'd have been much happier.  And let's face it, presentation is half the battle, and with the parade of bottles, you failed on that score here.
Wine bitching over with–now on to the food! *smile*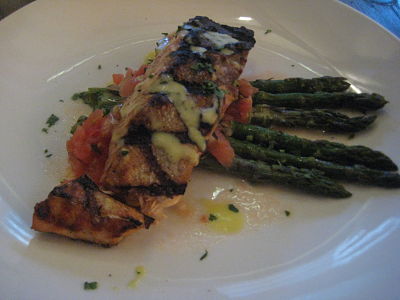 To start:
Oyster Assortment – ($MP)  I ordered this partly because it was a warm summery day and I was in the mood for oysters, but partly because there was nothing else for an appetizer that really interested me.  They did have 6 varieties on offer (3 east, 3 west)—and I chose three each of two different ones, at the waitress' recommendation…and though they were nice and cool and fresh, and presented well, on a bed of ice and seaweed with ramekins of both cocktail and mignonette sauce…the flavor wasn't as described.  Disappointing.
Chopped Iceberg Salad – ($8) came with blue cheese, bacon (thick cut nuggets) and Russian dressing.  TG loved it.  It wasn't really chopped,the way you think of a chopped salad being chopped, but rather the lettuce was cut into 2-inch square hunks, as was the blue cheese.  But they were generous with the cheese, the bacon was in thick cut, well browned nuggets (almost tasted like pancetta to me…) and, for those who like the sweetness of Russian Dressing, it was a nice diversion from the classic wedge dressing.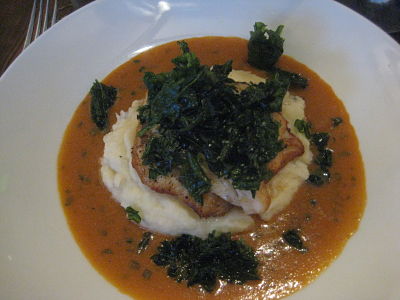 Mains:
TG ordered the Grilled Salmon ($22) which was served with summer-tomato mint relish and grilled asparagus.  He loved it.  Said it was perfect—good food, simply, but well done.  I can't speak to this, as I am not a salmon or asparagus fan…but since he is, I'll take his word for it.  *smile*
I was between two dishes:  The Pan Roasted Cod ($23) or the Whole Roasted Fish of the Day ($22), which that day, was a Lake Bass.  I like Bass, so was leaning towards the whole fish, when the man sitting next to me got his meal delivered, and he had chosen the  Cod.  Two big beautiful pieces of fish balanced on top of a mound of mashed potatoes…it looked so *good*, I was torn.
Once again, I looked to the waitress for direction—she said "The Cod.  It's killer.  The whole fish is great, too, but the Cod is really something."  Sounds like a ringing endorsement to me–so I got the cod.  And when it arrived….it was small.  Truly, less than half the size of the portion I had seen earlier.  I realize each fillet is not exactly the same size…but really, the disparity here was out of line.  The fish itself tasted good…but not great.  Nicely browned, but could have used more seasoning.   The truffled mashed potatoes, good but not great. (Which is a feat, because we're talking truffle oil here!).  The spinach, billed as 'crispy', was just that…but the texture actually took away from the dish, rather than adding an interesting contrast…so not bad but not even good.    And the Lobster Sauce…beautifully orangey red–and certainly completed the plating nicely–was also good, but not great.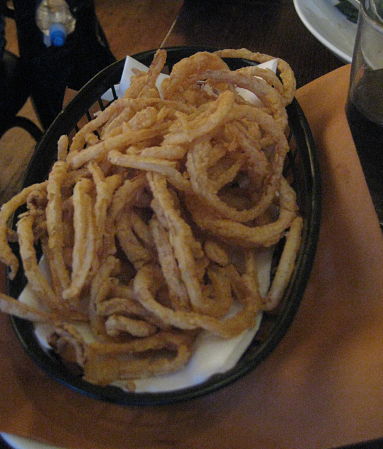 Ordered a side of the 'Crispy Onion Rings' ($6)…hey, I was feeling the clam-shack vibe…the french fries I had seen served next to me looked crispy and tasty…and I was feeling slightly virtuous with my raw-bar starter *smile*….so what the heck?  Was happy when I first saw them–delivered in a shack-worthy red plastic basket–as they were the thin little onion rings—also New England Shack worthy…but then I tasted them.  Um, not so good.  Can't quite tell *what* they put in the dredge mixture (baking powder?  cornstarch?) that left that powdery taste in my mouth…increasingly powdery as the cooled, thank you very much—but I can tell you that it wasn't pleasant.  At all.  90% remained uneaten…and between TG and I, that's well, practically unthinkable!   So do yourself a favor, if you go, skip the onion rings, but try the fries…we didn't, but they looked *really* good.
They do a couple of fun, homey things at the end of the meal–bring you out a "fish fortune" (you can see what I mean if they go to their website) and send out a little dessert at the end of the meal.  This night it was chocolate pudding…served in an espresso cup with a little floret piped in whipped cream on the top.  TG loved it, saying it was just like his mother's chocolate pudding.  I took a bite–the pudding itself wasn't bad–not very chocolate-y, rather gelatin-y…but it had a skin on the top and the whipped cream tasted awful.  I think it was a combination of not sweetening or flavoring the cream, adding a stabilizer that left a taste and perhaps picking up a flavor from the fridge it was stored in.   But it is a homey little touch just the same and sent out gratis, so I'm mostly willing to overlook those points.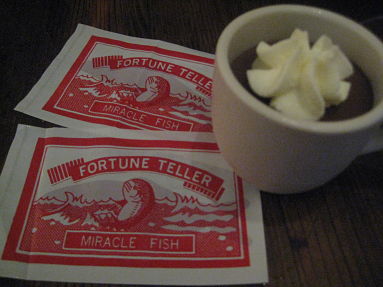 Were I hungrier or just in the mood for dessert, I would have scraped off the whipped cream and skin layer and eaten the pudding underneath, but as it was, I left it for TG to enjoy.  After all his mother lives an ocean away–who am I to deny him her pudding when it's on offer? *smile*
The best thing I had?  My second drink.  After the experience with the first glass of wine I wasn't anxious to have a second…and I had been watching a couple of people drinking this one particular cocktail…and it looked so good and so refreshing, when the waitress asked if I would like another glass of wine, I pointed and said "No, but I'll have one of those!"   It was called, I believe, Ginger Lemonade.  And if I remember correctly, the description on the cocktail menu had listed citron vodka, ginger beer and lemonade….it came in a huge wine glass with plenty of ice and a straw…it was a pretty yellow color…and tasted refreshingly of lemon and ginger…with a nice subtle bite from the ginger beer.  In fact, you couldn't taste the vodka at all.  TG tasted it and really like it too, and didn't believe there was vodka in it until he saw the bill.  Then he said "For $13, there'd better be booze in it!"  *smile*  But it was worth it.  It's a large drink, gets even better as the ice melts…it lasted me through the rest of the meal…and I can't wait to have another one on another hot day!
Don't get me wrong, the food isn't bad. It's even pretty good.  But for me, overall unsatisfying. But I'm not kidding when I say people *love* this place.  So it just might be a place for you.  Keep in mind that though I didn't love it, the quality of everything (aside from the 'bread') was very good…the space is neat….TG loved everything from his salad to his entree to dessert…..so check out the website and if it looks good to you, by all means give it a try.
And let us know what you think in the comments.  Especially if you try the fries.  I'm still thinking about how good they looked.  Hmmm…
I think that, despite all my previous comments about not loving this place…I'm going to find myself back there, sitting at the bar, trying those fries and sipping the first of many more Ginger Lemonades.  And if I start getting there early and taking advantage of their $1 oysters from open 'til 7pm along with my GL…well, maybe in that way, I'll become one of the many who love The Mermaid Inn, too.  *smile*
The Mermaid Inn Uptown
568 Amsterdam Avenue
between 87th and 88th Streets
New York, NY 10024
tel:  212-799-7400

Filed Under:
NYC, Restaurant