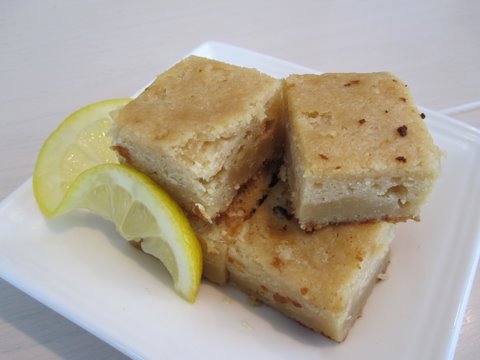 When the weather turns hot and sticky (like it was in NYC this week—phew!)…ice cream and popsicles and all manner of cool and frozen treats are the first order of the day.  But sometimes…just sometimes…rich and decadent is what you're craving.  Despite those 100 degrees staring you in the face, making it hard to breathe on the subway and, let's face it, dripping down the back of your legs.  (Ewww!) *smile*  But still, the craving hits and you want what you want….and then it's time to make Lemon Mascarpone Blondies!
I found this recipe by Garrett McCord of Vanilla Garlic on Simply Recipes a while back.  As soon as I saw 'lemon" and "mascarpone" I knew I was going to be giving it a try.  Those have been two ingredients in some of my most favorite recipes ever, sweet or savory, and I love bar cookies–so quick, so easy–so it went right to the top of the 'Must Make Soon!" list.  So I made them soon.  And *were* they good!
Creamy and dense and rich…. but not as heavy as if they were a rich, creamy, chocolate-y bar….so I've made them a number of times….and again during this heatwave.
They mix up quickly–all in one bowl, keeping that clean-up to a minimum—and they bake up quickly–a scant 25 minutes or so, keeping that oven-heat-against-the-a/c to a minimum—but the taste is full and rich and satisfying…..making them just perfect when you want to indulge in something a bit more substantial than ice cream on a hot summer day.
I made just the barest of changes to his recipe—I increased the amount of lemon juice and swapped the dark brown sugar for light.  I thought these changes would help the lemon flavor come through a bit more, especially taking away the molasses flavor in the dark brown sugar….and was pleased with the results.  I've noted the changes in the recipe below, so you can try them whichever way you think you'd enjoy them most.
And in case you were wondering…..Yes, they do go incredibly well with an ice-cold Vodka Tonic…no matter which citrus-fruit wedge (lemon or lime) you've finished it with! *smile*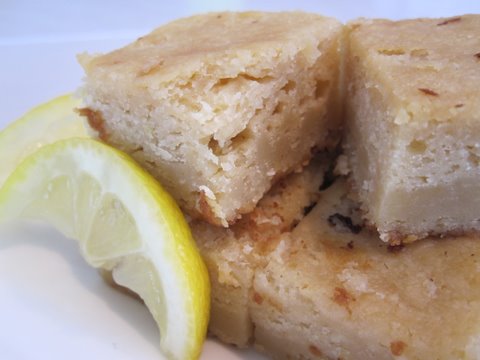 Lemon Mascarpone Blondies
based on Garrett McCord's recipe at Simply Recipes
1/2 cup of Butter, melted
1 cup of tightly packed Light Brown Sugar (I changed his dark bs to light)
1 Egg, lightly beaten
1/4 teaspoon Vanilla
8 ounces Mascarpone Cheese
6 tablespoons Lemon Juice (he used 2)
2 1/2 teaspoons Lemon Zest
1/2 teaspoon Baking Powder
1/8 teaspoon Baking Soda
pinch of Salt
1 cup AP Flour
Preheat the oven to 350°F.
Grease (I used cooking spray) a 8×8 baking pan. (I used a 9×9 'cause that's what I had on hand, and it was fine.) Then line with parchment paper and spray and lightly flour the paper. (Again, I used a cooking spray with flour built in.)
Whisk together the melted butter and sugar in a bowl.
Add the egg and vanilla extract and whisk until combined.
Add the lemon juice, zest, and mascarpone cheese and mix thoroughly. (Be sure at this point that it's really well mixed as you don't want to over-stir once you add the flour.)
Add the flour, baking soda, baking powder, and salt, mix it all together.
Pour into the pan and spread evenly. Bake for 25-30 minutes or until a toothpick comes out clean. Allow to cool on a wire rack. Cut into squares and serve.
He said 9 blondies, but I cut mine much smaller –they're so sweet and rich—I got 16 squares.
And when cut this small, you could even serve one or two along-side a scoop of ice cream.  You know, just to help you beat the heat.  *smile*

Filed Under:
Cookies, Dessert, Mixed-Bag, Recipe, Sweet