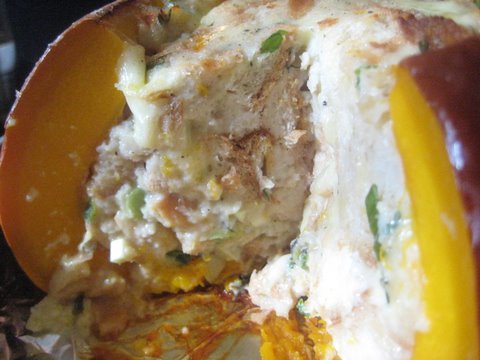 With a name like that, how could I not make it? *smile*
I've stuffed all number of pumpkins and squash with all number of things…but when I saw this name….and then read the words of the amazing Dorie Greenspan, I knew this would be the next pumpkin I would stuff.
In short, this is a pumpkin that is hollowed out, seasoned and stuffed with bread and cheese and aromatics and then baked,  until the pumpkin flesh is tender and the filling has come together like some of the best bread stuffing you've ever tasted.  Yum, ya-yum, yum, yum! *smile* 
 You can serve it as a first course or a side, but I chose to serve big wedges as the main course, serving it with only  a nice Dijon-Vinaigrette-dressed Mesclun Salad to start…and calling it lunch! *smile*
If you read through her recipe, you'll see that this is a dish with endless variations.  Quite unusually for me, I decided to go the vegetarian route this time.  Do, do, do check out her recipe–she lists so many options, vegetarian or otherwise, so it's sure to give you plenty of ideas to make this your own.
I stuck pretty closely to her recipe, though like most 'stuffings', think of it more of an outline than a true recipe.  Put it what you like, what you have on hand….it will all come together deliciously as it bakes.  My major tweak this go-round was to replace the heavy cream with skim milk.  I'm not saying it wouldn't have been gorgeous with the cream, but I also knew it would be plenty tasty without out it, so why not save those 'cream calories' for the dessert course? 
And considering that we're in the season of Halloween candy and bite-size Snickers are around every corner…well, I'd better start replacing just about everything I'm eating with skim milk! *smile*
Pumpkin Stuffed with Everything Good
serves 6-8
1 medium-sized Sugar Pumpkin
Garlic Salt and Freshly Ground Black Pepper
1/2 a slightly stale Baguette, thinly sliced and ripped into 1-inch pieces
1/3 pound cheddar Cheese
1/8 cup Pecorino Romano Cheese, grated
4 cloves Garlic, coarsely chopped
4 large Scallions, sliced
1 Tablespoon fresh Thyme
1/2 cup Skim Milk
4 dashes Hot Sauce (I used Frank's)
Preheat oven to 350 degrees.
Cut the top off the pumpkin, the way you would a jack-o-lantern.  Remove the seeds (don't forget to save them to roast later–yum!) and strings and scrape the inside of the pumpkin clean.
Season the inside of the pumpkin generously with garlic salt and pepper.  Put hollowed out and seasoned pumpkin on a foil-lined baking sheet or Dutch Oven.
Toss the bread, cheeses, garlic, scallions and thyme together.  Season with salt and pepper.  (If you keep it vegetarian, be sure to season generously.  If you add meat–especially bacon or sausage–go a bit easier–but either way, taste and adjust accordingly.
Pack the filling into the pumpkin.  Every pumpkin is different, so you may have too much stuffing or you may need a bit more.  But don't be shy–go ahead and stuff—everybody loves stuffing!–so you don't want to skimp.
Measure out the milk (cream if you're of a skinnier persuasion than I am *smile*), add the hot sauce and season a bit with salt and pepper.  Mix, then pour, slowly, over the bread and cheese mixture in the pumpkin.
I say pour slowly, because, while you don't want it swimming in milk, you do want everything nicely moistened, and the stale bread will take a few moments to absorb the liquid.  Use as much liquid as looks right…but don't be overly worried here, you can always add some more as you check it while baking.
Put the cap back on the now-filled pumpkin (just as you do your jack-o-lantern), wrap the stem with a bit of foil (just to ensure it doesn't scorch) and bake in the oven on the center rack for about 2 hours.  Check after an hour and then at 90-minutes to see how the stuffing is doing, see if it needs a bit more milk, etc….and continue baking until the stuffing is bubbling and gorgeous and flesh of the pumpkin is easily pierced with a fork.
I removed the cap during the last 1/2 hour to give the stuffing a chance to brown up a bit–and that was perfect, I thought.
You can scoop portions with a big spoon or slice and serve stuffing-filled pumpkin wedges (this time I did the wedge optoin)—but either way, present the whole roasted pumpkin with the cap placed back on top to your guests first…it is quite a sight to behold!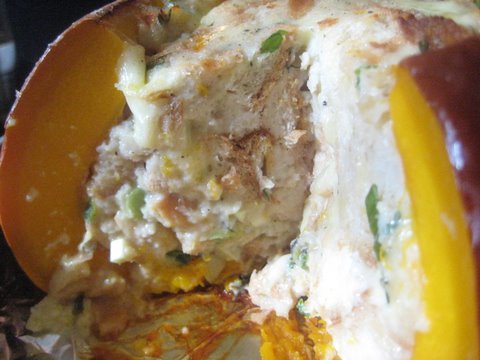 Filed Under:
Mains, Recipe, Savory, Sides, Vegetarian-Friendly