I think there are two kinds of people in the world:  jam-people and not-so-much-jam people.  I fall into that latter category.  It's not that I don't like jam–I do–…I just don't feel the need to eat that much of it.  You know, I generally eat my toast plain—well, with butter, but other than that, plain.  I don't spread jam on english muffins, or any other kind of muffins, for that matter.  I don't go wild for thumbprint cookies or sandwich cookies filled with raspberry or strawberry preserves.  I'm just kinda plain that way.
But my parents and Suzy—especially Suzy—love, love, love jam.  Capital-letters-LOVE-it.  You cannot see the toast for the jam at breakfast at their house.  We are lucky in that one of the things Suz does at her job is make jam.  And even luckier, for us round people, she also makes sugar-free jam.  (God bless Splenda!)
But Suzy's jam is hand-crafted and comes in those itty-bitty canning jars…and let's face it, the three of them can go through one of those a morning.  So in addition to the Suzy-made selections, their fridge always hosts an assortment of store-bought sugar-free jams as well.  Again, Splenda did wonders for those three by allowing them to indulge in their jam habit with no negative—make that expanding—waistline results. *smile*
My mom, good Flavor-Junkie mom that she is, checks the site regularly and when she saw an add pop up in the sidebar for Smucker's Sugar Free Jam that said to click here for recipes, well, as you can imagine, Mom clicked.  And when she did, one of the recipes she found was "Apricot Breakfast Muffins".  So she printed it out and as soon as I came through the door on my next visit, she handed it to me and told me she expected those for breakfast the next day.
So I'm sure you can guess what The Suz and I did the next day while drinking our morning coffee… *smile*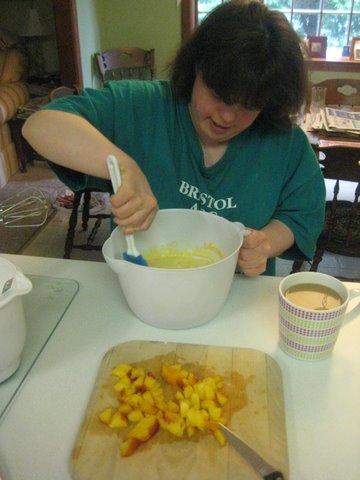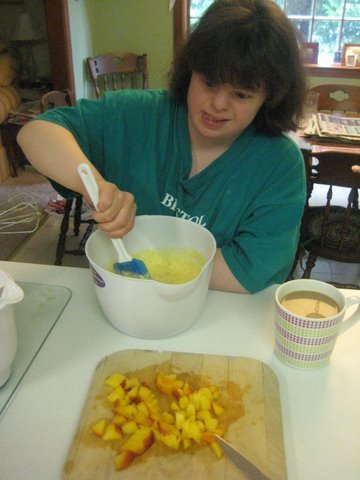 The recipe was a nice low-fat, low-cal muffin recipe—and we stuck pretty closely to it as written.  Other than doubling the batch – (I mean, come on, who only wants 6 muffins?)—the only change we made was to add one diced fresh peach to the batter.  In my experience,  when baking low-fat anything, the more moisture you can get in there, the better—and having juicy chunks of fruit in every bite is a great way to distract from the low-fat-ness of the muffin-texture.  We had the Sugar-Free Apricot Preserves that were called for, but not any fresh apricots, so we thought peaches would be a good choice instead.
The muffins—for something low-cal and low-fat—were pretty darn good!  Thank you Smuckers and thank you Mama for printing this one out.  *smile*  They were moist enough to make up for the texture lost to the lack of fat and sugar……they tasted good and they smelled, well, pancake-y.  Yes, pancake-like.  I think it was the baking powder, but the smell when they were baking and when you brought one up to your face to take a bite….well, "Mmmmm, pancakes!" came to mind.  So if you're trying to eat healthy, but still want something breakfast-treat like, give these a try.
For even me, the not-so-much jam person, really liked them and is looking forward to trying out other sugar-free-jam-and-fruit combinations in the near future.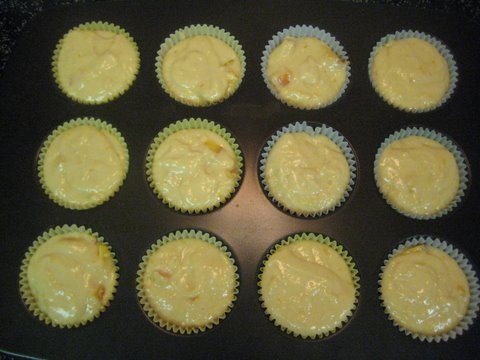 Here is the recipe the way I made it.  You can see the original recipe here.
Smucker's Apricot Breakfast Muffins
makes 12
2 cups All-Purpose Flour
1 cup Splenda, granulated
4 teaspoons Baking Powder
1/2 teaspoon Salt
2 x-large Eggs
4 Tbls.  Oil
4 Tbls Skim Milk
1 cup Smucker's Apricot Sugar Free Preserves
1/2 teaspoon Almond Extract
1 fresh Peach, diced ( You can peel if you want to, but I didn't and it was fine.)
Heat oven to 350 degrees.  Line 12 muffin cups with paper liners, then spray the liners with cooking spray.  (I didn't spray the paper liners and they stuck to the paper a bit, so next time I'll coat with cooking spray.)
Combine flour, Splenda, baking powder and salt in a medium mixing bowl.
Beat together egg, oil and milk.
Blend in preserves and almond extract.
Add in the flour mixture and stir just until almost moistened.
Stir in the diced peach.
Fill muffin cups evenly with batter.
Bake 16 to 22 minutes or until toothpick inserted in center comes out clean.  Cool on rack, then serve.
***
Notes:
I say to "add in the flour mixture and stir just until *almost* moistened"…because the key with muffins is to not over-mix, and you will be mixing some more when you add in the peach.
I did use Smucker's S-F Preserves since we had it on hand and they were nice enough to have provided the recipe, but of course feel free to substitute.
The recipe said bake 20-30 minutes, but Mom's muffin tin is dark and ours were more than done at the 20 minute mark, so that's why I have you checking at minute 16.
The original recipe did say to "Spread tops with a thin layer of preserves before serving." But I left that up to the individuals themselves.  As you might imagine, three of us split the muffins and spread on some of the remaining preserves, while one of us split the muffin and added a nice smear of butter on each half.
Hmmm, I bet you can guess who that butter girl–ehem, person–was, now can't you?  *smile*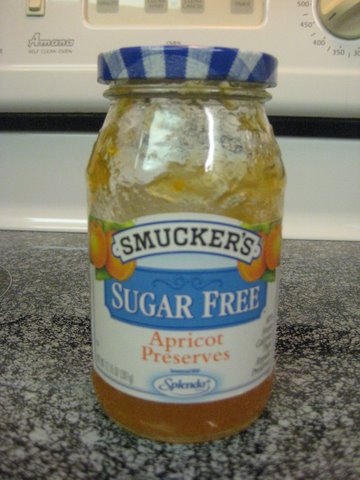 Filed Under:
Bread/Pastry, Breakfast, Diet-Friendly, Recipe