When this is what you see at 10:00am on Madison Avenue:
You know the Big Apple Barbecue Block Party has begun!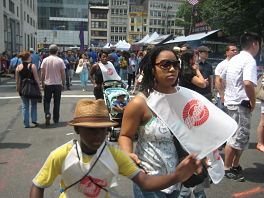 Men you would be scared to meet on the street in other circumstances, smoke billowing for blocks and blocks, otherwise fashion-conscious people proudly sporting bibs as they walk down the street, wooden picnic tables lining the sidewalks, the deep smell of smoke and wood and barbeque…ahh, I love this time of year!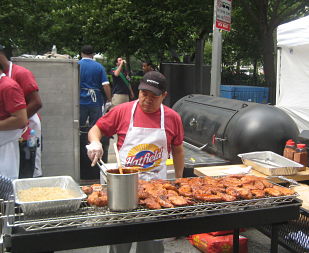 When else can you see signs with the words "Yazoo" and "Pappy's" in Manhattan?  Just seeing those banners makes this BBQ-lovin' girl smile!
The Big Apple Barbecue Block Party happens once a year….just one lovely, smoke-filled weekend in June.  15 Pit-masters from all over the country, featuring all sorts of BBQ.    This was the 8th annual, and over the years , I've tried it all:  Baby Back Ribs, Kansas City Style Ribs, Pulled Pork, Brisket, Mutton…..along with all manor of country sides…..but this year I was on my own and knew (from delicious, but later regretful, overeating experiences from years past) that the wise course of action was to pick one and be done.  (I hope you're all giving me a round of applause for having *such* self-control. *smile*)
So I made the rounds….ogled the smokers and the fire-pits and the daubers…..and contemplated my choices:  Whole Hog and Coleslaw ( a perennial winner)….Pulled Pork and Pickled Okra….Mutton and Burgoo…..Ribs…..and Ribs…..and the other Ribs…..but then I caught sight of a fleet of grills topped with these gorgeous links: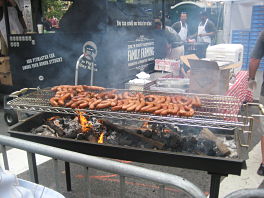 Add then the man who was overseeing those beauties: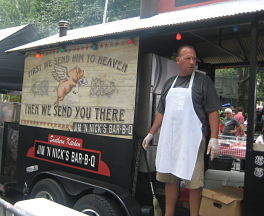 And then I read the sign: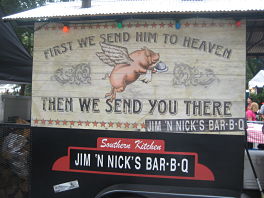 And that's when I knew Jim 'n Nick's was the one for me!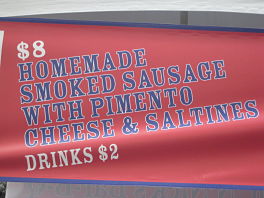 My pork-lovin' delight only *quadrupled* when I saw that my BBQ offering of choice (Homemade! Smoked! Sausage!) was to be served with Pimento Cheese…(Pimento Cheese, oh how I love thee!)…and Saltines.  Saltines!  (Don't ya just love that the Saltines got billing? *smile*)  I mean, I could've been looking at pickled okra (slimy, ugh!) as my side, but I'm getting pimento cheese and crackers?  In *addition* to my homemade sausage link?  Ahh, sometimes, life is just plain good.
Decision made, I queued right up and got to watch them scooping the Pimento Cheese with an ice scream scoop.  At that moment, had I any doubts about my choice of meal, they would have been laid to rest–I mean, anyone who feels that the *correct* serving size of Pimento Cheese is a large ice cream scoop, is clearly kin to me.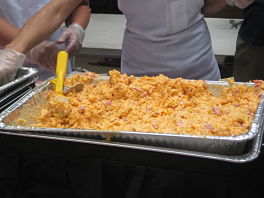 And when I had wound my way through the line and paid my $8 (cheaper than a turkey sandwich in this town), I was rewarded with this basket of tastiness: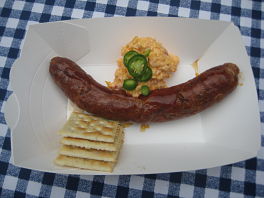 Mmmmm…the sausage was smokey, the casing crisp, the interior nicely chewy and moist….drizzled with Jim 'N Nick's Habanero BBQ Sauce, which gave it some nice heat.  The Pimento Cheese was sooo creamy and seemed incredibly fresh–as if they had made it in the last 30 minutes–meaning the shards of sharp cheddar hadn't relaxed at all, so they seemed to be (slightly) toothsome little tendrils suspended in creaminess–topped off with some slices of fresh jalapenos.
I walked away, stuffed to the gills ("One and Done" was *so* the way to go)…totally satisfied….and… in Heaven?
Indeed! *smile*
Now sadly, as you read this, this year's party has passed…..but it's never too late to start planning for next year!  And the nice folks who put this event together have *already* set up a mailing list for information for 2011 (and the smell of smoke hasn't even cleared the neighborhood yet.*smile*)   Just clink the link to the website below and follow the directions to sign up for email alerts.  Go ahead.  You know you want to.
And next year, I'll swap you my Pickled Okra for your Pimento Cheese.  And Saltines.  No deal without the Saltines!
The Big Apple Barbecue Block Party
Madison Square Park
One Weekend in June
11am-6pm

Filed Under:
Entertainment, NYC