Fela!
Book by Jim Lewis and Bill T. Jones
Music by Fela Anikulapo-Kuti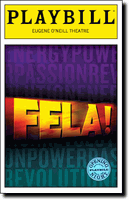 If  you're like me, you had no idea who or what "Fela" was when you heard the title of this Broadway show.  (And if you're one of the people who did know who Fela was, well, then this review probably does not apply to you.)
Fela Kuti was a Nigerian musician/singer, pioneer of afrobeat music and political activist.  You learn this as soon as the show opens and you find yourself in the 'audience' at Fela's final concert in 1978 at the Shrine in Lagos, Nigeria.  And that first-act 'show' is quite a fun one, even for the un-informed and un-initiated.  The music and the dancers and the beat pulse all around you and Fela talks directly to the audience, drawing you further in.
He's a compelling performer and you find yourself swept along in the moment and excitement.  Fela urges you to "Leave your shy at the door"….and in a test of this, Fela teaches us, the mostly white audience, to do "The Clock".    Basically, he gets us all to stand up and teaches us how to use our pelvis—yes, p-e-l-v-i-s–by thrusting it 'around the clock' at one o'clock,  two o'clock,  three o'clock, all around the clock..until we're all loose and thrusting.
Tha'ts what I said:  A whole audience's worth of people….some with natural 'pelvis' rhythm…but most of us, a bit reticent, or at least out of practice, thrusting our pelvises with barely a few inches between us and our neighbors.  And a fair number of us with grey hair and AARP cards in our wallets. (No, not me.  Gheez!  But many, many of the people around me–oh yes!)  As you can imagine, the somewhat embarrassed laughter of the audience and the presence of so many pulsing pelvises all around us lead to a very convivial atmosphere.
And we ride that 'We *are* a part of the concert!' and 'By God, we *do* have rhythm!' fun all the way to intermission.  In fact, during the interval, when talking with my date, he asked me what I thought of the show, and I said "All of the performers are doing a  great job—and the band rocks!  And though it's not really a show (as in theatre piece),  I would recommend it for anyone who wanted to have a really fun night out at the theatre.  And it makes for one  hell-of-a-sexy date!" *smile*
Well, yeah, that's what I *would've said* if I had left at intermission.  But then the second act came.  And in the second act it went from pelvis-and-drum-beat-pumping fun, to a bleak, depressing lesson in the atrocities put forth under Nigeria's ruling government–including the government's attack on Fela's compound/commune that includes every bad thing you're thinking….spelled out in old-fashioned type-face on a screen showing stark black and white images, against the stage's back wall.
What a downer.  And I know, that sounds lame.  Yes, it really happened and yes we shouldn't overlook this fact.  But I'm willing to bet most people – or at least, those like me who didn't know anything about Fela when they stepped into the Eugene O'Neill Theatre that evening–were blindsided by his abrupt change in the second act.  But even for those who did know about Fela and his life and that these things had happened—this wasn't the way to go about it portraying it on stage.
This is how I feel:  wherever the second act is going has to be set it up during the first.  A show is a journey and you're supposed to lead us along and take us there.  Not tell us one story in the first act—get us all signed up for something fun and pelvis-pumping–and then in the second act,  drop us into something stark and depressing and vaguely guilt-inducing.   It's not to say that there wasn't room for all of this in the show—and clearly, in any show about Fela's life all of this should be represented….but there has to way to make the two acts more cohesive.
Because as it is, by the end of the show, I had taken back the recommendation I had been ready to give out at intermission.  And that really is a shame.
Eugene O'Neill Theatre
230 West 49th Street between Broadway and 8th Avenue
Now Playing – through Jan 2, 2011
Photo from Playbill.com

Filed Under:
Entertainment, NYC, Theatre