Collected Stories
by David Margulies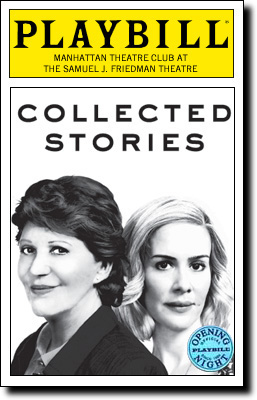 If you love words or writing—this play is for you.  It's one of those plays where early on, you hear a line and you think to yourself:  "That's it. That says it perfectly. I'm going to have to remember this line."  And you repeat it to yourself (silently, of course, you are in a theatre after all) to commit it to memory…but the play is still going on, and before you get it to commit-to-memory stage, another line is said that lands just as forcefully, and now you want to remember that one, too…..and this happens a few more times and you finally just say to yourself, "I'm going to have to buy this play."  And get back to paying attention and waiting for the next perfect line to be dropped in your lap.
Manhattan Theatre Club's production of David Margulies' Collected Stories is currently playing at the Samuel J. Friedman Theatre on Broadway. It's a story of two female writers–one teacher/mentor and one young student/protege, whose career takes flight during the course of the play.  It brings up questions of ethics and of the responsibility to others vs. the responsibility to your art.
I obviously don't want to give anything away here—but it was gratifying to listen to my (other) theatre goers talk about the ending and their thoughts on those questions as we made our way out of the theatre.  Great drama goes on well past curtain…that's the kind of resonance this play has.
The set is fantastic—you feel like you're in the apartment of a writer in Greenwich Village, filled with the bric-a-brac of a writer's slightly-worn life.  And Linda Lavin simply brings it.  From minute one.
So…if you enjoy a very well written drama, check out Collected Stories while it's here.  And if you do, let me know which lines resonated with you.  I'm sure I missed some and would love the reminder!
Samuel J. Friedman Theatre
261 West 47th Street (Between Broadway and 8th Avenue)
New York, NY 10036
Now through June 13, 2010
Photo from Playbill.com

Filed Under:
Entertainment, NYC, Theatre