A Little Night Music
Music and Lyrics by Stephen Sondheim
Book by Hugh Wheeler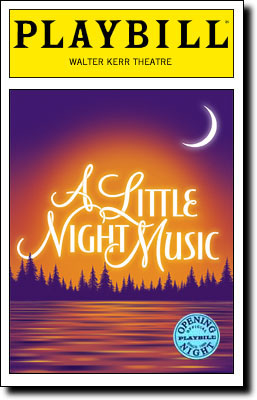 It was the "Send in the Clowns" that did it.  Tipped the scales in this cast's favor, that is.  A Little Night Music opened in the fall of 2009 starring the incomparable Angela Lansbury and Catherine Zeta Jones.    And I saw it shortly after they opened.  Angela, as always, was incredible – giving her very comedic part depth and nuance.  Catherine Zeta-Jones on the other hand…stilted at best.  I'll admit right off the top I'm not her greatest fan…but I promise you, I went to the show wanting nothing less than to be surprised and thrilled at CZJ's performance….but that just didn't happen.
Her acting–not up to par, and her singing—not good at all, and in the case of "Send in the Clowns" (*THE* song of this show, *the* song.), her singing was practically non-existent.  And she didn't manage to "act" the song instead, either.  It was just, flat.  And for Sondheim fans everywhere, this was a sad, sad moment indeed.  So though I walked away from that performance thrilled to have had yet another chance to see Angela Lansbury live, on stage (and at her age, that is not something to take for granted.)…..Catherine Zeta-Jones' performance was so bad, it left me with an over-all bad feeling about this production.
Fast-forward to July of this year—-Angela and Catherine have finished their run with the show….and Elaine Stritch and Bernadette Peters have taken over their roles.  Interesting.  I wasn't completely thrilled with the new casting….as much as I like Elaine Stritch, I couldn't imagine her giving as Madame Armfeldt anywhere near as finely tuned a performance as Angela, and  as for Bernadette Peters as Desiree Armfeldt, well, I was on the fence.  Goodness knows Bernadette is a performer….I just wasn't sure how she would be in this role….and if she could deliver "Send in the Clowns".  So I didn't rush out to buy tickets to see this new cast.
But our friend Cydney was dying to see what these two did with those roles…..and one thing led to another….and a few nights ago found Carolyn, Cydney and I sitting in the front row of the mezzanine taking in this new cast.  As I suspected with ES and BP, this was a much broader playing of the roles – especially by Stritch.  Not bad, but I prefered the earlier style better.  And as for Peters…I felt I was seeing more Bernadette than Desiree…but then came "Send in the Clowns"…and Bernadette Peters sold it!  She touched every feeling hidden within the lyrics and the music and brought them out for all to hear.  It was the "Clowns" I had been looking for.
The rest of the cast is wonderful – as they had been the first go-round…especially Leigh Ann Larkin and Erin Davie….and while Elaine Stritch plays a much broader Madame Armfeldt, she does play it to great comic effect.  The laughs and the great renditions of "The Miller's Son", "Everyday a Little Death" and so importantly "Send in the Clowns"….makes this a production worth seeing.
Walter Kerr Theatre
219 West 48th Street between Broadway and 8th Ave.
Now Playing – through Jan 9, 2011
Photo from Playbill.com

Filed Under:
Entertainment, NYC, Theatre